Top Row: Val Broyles, Nolan Mobray, Kendall Harwood, Cuinn Mrogan, Nathan Ofstad, Curt Berstch.
MIddle Row: Jason Wies, Nathan Freize, Brandon Johnson, Toby Nelson, Bryce Smith,Kevin O'Brien, Stephen Pitts.
Bottom Row: Evan Rattray, Bradly Briney, Dain Engrabretson, Dan Jenson, Gio Ullioa, Fritz Freiz

Boys make it a 4-Peat!
by Rich Stripp of the Leader
PHS boys' cross-country team took their fourth consecutive state title in Helena Oct. 23 led by senior Dain Engebretsen's first place finish. Polson won with a score of 55, beating Browning by 13 points.
Coach Mindy Harwood said that she knew it would be a close race. "I was expecting a very strong challenge," Harwood commented. Browning beat the Pirates early in the season by 40 points, but Polson also defeated Browning by two points at another point this season.
The scoring system works in a way with the lowest number of points winning. Whatever the place the runner finishes, that's the number of points they receive. The top five runners make up the team's score.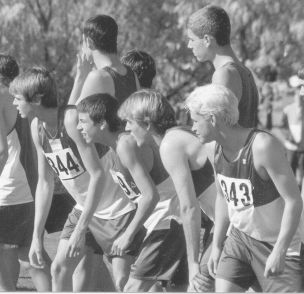 Engebretsen won with a record time of 15:40. "I felt Dain was a strong challenger," Harwood said. Engebretsen broke the PHS record formally held by Kyle Wies, who is currently a runner for the University of Montana.
Kevin O'Brien, junior, placed sixth with a time of 16:17. Harwood said, "Kevin O'Brien came up big."
Freshman Fritz Friesz came in just behind at 16:17.
Junior Kendall Harwood was ranked 23rd and wound up 15th with a time of 16:36. Coach Harwood added that he beat kids he'd never beaten before.
Nathan Friesz, junior, got 26th with a time of 17:08. "Nathan Friesz came through with the best race of his life to seal down the victory," Harwood added.
Other Polson boy winners included Stephen Pitts, junior, who placed 44th with a time of 17:30. Junior Nathan Ofstad was 74th at 18:21. "We got good races from everyone," Harwood said.
Harwood said that her reaction to the win was ecstatic. "That was one of the best days of my life. I was so happy for them," she says.
| | | | | |
| --- | --- | --- | --- | --- |
| Place | School | Score | Team Placing 1st -6th | Time (1st-5th) Split |
| 1 | Polson High School | 55 | 1 – 6 – 7 – 15 – 26 – 44 | 15:40 – 17:08 – 1:28 |
| 2 | Browning High School | 68 | 4 -11 – 16 -17 -20 – 38 | 16:10 -16:58 – :48 |
| 3 | Park High School | 125 | 5 – 21 -31 -32 – 36 -70 | 16:12 -17:23 – 1:11 |
| 4 | Anaconda High School | 197 | 14 – 25 – 42 – 54 – 62 – 65 | 16:33 -18:05 – 1:32 |
| 5 | Billings High School | 203 | 29 – 34 – 45 – 47 – 48 – 87 | 17:10 – 17:42 – :32 |
| 6 | Hardin High School | 208 | 3 – 27 – 28 – 67 – 83 – 99 | 15:56 – 18:43 – 2:47 |
| 7 | Whitefish High School | 212 | 2 – 23 – 57 – 61 – 69 – 71 | 15:43 – 18:17 – 2:34 |
| 8 | Libby Senior High | 218 | 22 – 24 – 40 – 64 – 68 – 77 | 17:00 – 18:15 – 1:15 |
| 9 | Colstrip High School | 231 | 10 – 18 – 55 – 72 – 76 – 91 | 16:25 – 18:28 – 2:03 |
| 10 | Beaverhead County HS – Dillon | 244 | 33 – 35 – 43 – 49 – 84 – 90 | 17:16 – 18:46 – 1:30 |
| 11 | Belgrade High School | 261 | 12 – 39 – 58 – 66 – 86 – 93 | 16:31 – 18:48 – 2:17 |
| 12 | Hamilton High School | 313 | 41 – 53 – 60 – 78 – 81 – 85 | 17:33 – 18:36 – 1:03 |
| 13 | Dawson County HS – Glendive | 315 | 9 – 19 – 75 – 102 – 110 | 16:23 – 20:23 – 4:00 |
| 14 | Laurel High School | 334 | 51 – 52 – 56 – 79 – 96 – 108 | 17:47 – 19:18 – 1:31 |
| 15 | Corvallis High School | 353 | 37 – 46 – 59 – 105 – 106 – 111 | 17:24 – 19:49 – 2:25 |
| 16 | Butte Central High School | 372 | 13 – 30 – 98 – 115 – 116 | 16:31 – 22:04 – 5:33 |
| 17 | Columbia Fals High School | 404 | 63 – 73 – 82 – 89 – 97 – 103 | 18:07 – 19:24 – 1:17 |
1999 Class "A" All State (Polson)
| | | |
| --- | --- | --- |
| 1st | Dain Engebretsen | 15:40 |
| 6th | Kevin O'Brien | 16:17 |
| 7th | Fritz Friesz | 16:17 |
| 15th | Kendall Harwood | 16:36 |
---