Pirates crown four
Second time around for McArthur
from the Leader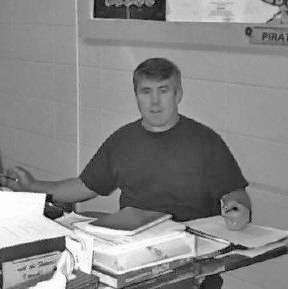 POLSON- Pirate wrestling coach Bob Owen began to breathe easy last Saturday night about the same time Ryan Johnson did.
Johnson, a two-time state runner-up, dominated Western A foe Mike Stamm of Hamilton 10-4 to win the state title at 105 lbs. Sandwiched between two Sidney losses, it assured polson of its first-ever state title.
"I think the rest of my finalists really wanted a slice of the pie," Owen said.
Three of the four other pirates going for the first were successful, including 189-pounder Kip Christensen. He beat top seat Parker Aldrich of Billings Central 3-1. Owen credited Christenen's perseverance, especially after training for three years with 6'6" , 220-pound heavyweight McArthur.
McArthur captured his second straight title with a 52-second pin of Colstrip's Doug Newman. The match capped an undefeated senior season for McArthur. He also earned tourney quick pin honors with four falls in less time than a single match takes. His first came in just nine seconds.
At 145, Sean Calahan topped Colstrip's Will Anderson 7-3. Calahan had suffered an injury to his sternum area last month but said back in Polson Sunday that it hadn't been bothering him.
At 171, Polson's Josh Dwelle Claimed second after a loss to record-setting Brandon Eggum of Sidney. Polson amassed 199.5 team points, Sidney had 185 and defending champ Colstrip 161.
Several other Pirates placed, including Zach Lair, who dropped a 7-1 semifinal at 152 to eventual three-time champ Jeremy Sell of Colstrip. "He went down swinging," Owen said. Lair came back to place third in a match the pirates "absolutely had to have," according to Owen.
Curtis Owen was third at 130. Kory Newgard sixth at 119, Mike Huffine sixth at 125 and Paul Fischer sixth at 140
Polson finished its dream season with a 16-3-1 dual meet mark, a second straight Western A title and high tourney places in big meets like the Tri-State and Rocky Mountain Classic. Some key seniors will be graduating, but Coach Owen is looking forward to a strong freshman class next season.
---
Swashbucklers!
Pirates take state wrestling title
By Rich Stripp of the Leader
POLSON- a ton of heart beats nine seniors any old time.
Just ask Polson's wrestlers. They rolled over a series of obstacles all season long to win the class a state title last weekend in billings. The final hurdle was an experienced Sidney squad, which led the team race 93-92.5 going into Saturday mornings semi-finals.
Then wrestle-back wins by Kory Newgard at 119 and mike huffine at 125 worked "like magic" to get the team jacked recalled assistant coach Dennis Johnson.
"That was a real spark for the whole team." Said head coach Bob Owen. "as soon as that happened I knew we had a great chance."
And that was about the time normally mellow Bill Owen, the team's other assistant, "came out like a treed bobcat," Bob said with a laugh at a packed victory rally Sunday afternoon.
By Saturday evening, Polson had five wrestlers in the finals to Sidney's four. Sidney's entries at 98 and 112 both lost, while Ryan Johnson put a Hamilton foe away for the championship at 105. That swung the pendulum, and three more pirates piled on for a 199.5-185 team win.
The upshot was that Polson got its first state mat title ever, the first for Bob Owen in his 19 years at PHS, plus a bunch of navy blue watch caps in Butte on the way home from the chilly victors' parade ride aboard a fire engine.
Ryan Johnson and 171-pound runner-up Josh Dwelle had banged-up leg injuries even before the season started. Sean Calahan, who won at 145, suffered a serious chest injury in January. His status for divisionals and state was questionable.
Polson didn't even take a full team to Billings. Then there was the bus breakdown that caused the team to be late for a meet in Butte. That meant the Pirates had to wrestle two duels almost at the same time.
"Yes, it was quite a season, and not a lot of food, either." noted PHS activities director Dennis Jones.
Senior Zack Lair didn't seem too surprised with how things turned out. "Everyone had talked about winning state early on," he said. Everyone pulled together like family. 'this is like a dream come true," he told the rally crowd.
Senior champs Aaron McArthur, a two-time state winner, and Kip Christensen, who beat the top seed in the finals, credited the coaches for preparing them to be winners.
Bill Owen said the team showed its appreciation by winning the key close matches. "It was a complete team effort…and I couldn't be prouder."Bob Owen took the microphone again Sunday to thank everyone – parents, fans, Jones for his scheduling leeway- and wish the mountaintop experience for all the PHS teams.
Then: "I don't know what else to say, except 'How 'bout them Pirates!' "