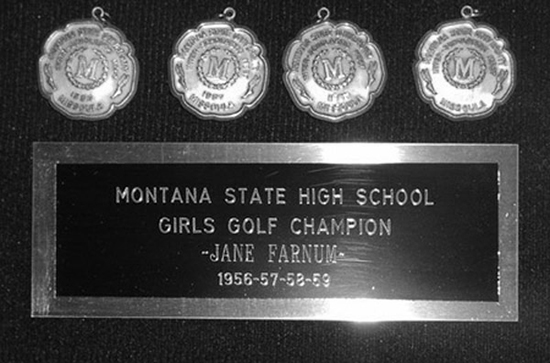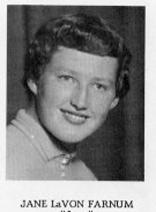 Jane Farnum, interscholastic girls golf champion won 4 straight state titles during her Polson High School years. She scored 95 in 1956 to win by 15 strokes, 85 in 1957 to win by 19 strokes, 92 in 1958 to wing by a single stroke over PHS schoolmate, Danette Lipp, and 86 in 1959 to win by 3 strokes giving her the record accomplishment for all time girls play.
1956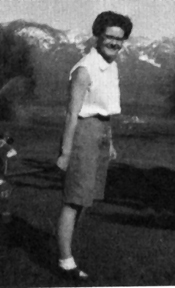 Jane Farnum, Polson, fired a 49 Saturday morning to win the Montana Interscholastic girls' golf tournament held in Missoula with an 18-hole total of 95. Miss Farnum conquered the smooth course in 46 Friday, Girls' par is 37.
Janet Weller, Flathead County High School, moved into second with an 18-hole total of 110.
Twelve girls participated in the two-day event, played under excellent weather conditions.
1957
In girls' competition, Jane Farnum of Polson, last year's winner, repeated her performance and took the crown with an 18-hole total of 85. Miss Farnum shot a 42 on her opening round and a 43 Saturday.
In second place was Danny Lipp also of Polson
1958
Bernie Overland of Billings took first place in the boys' division of Interscholastic golf competition and Jane Farnum of Polson repeated in the girls' division here Saturday. Farnum was first with an 18-hole total of 92. She was followed by Danette Lipp of Polson with 93.
1959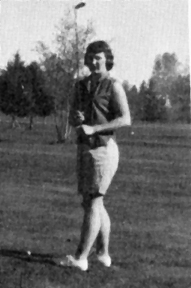 Jane Farnum, Polson's outstanding high school girl golfer, defeated all competition at the Interscholastic tournament at Missoula last Friday and Saturday to win her fourth straight state golf title.
Miss Farnum copped the championship with an 18-hole total of 86. Another Polson girl, Danette Lipp, finished third with a total score of 91.
Jane Farnum's Interscholastic girls' golf victory was her fourth straight, a record for all-time girls' play. Jane is a senior graduating second highest in her class as well as playing super-golf on the links.