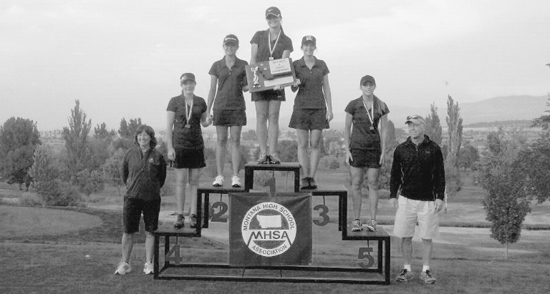 Saturday, October 1, 2011
Polson girls Class A state golf champs
The Daily Inter Lake
HAMILTON – Polson's girls captured the Class A state golf tournament title on Saturday.
The Pirates had four players finish in the top 15 spots individually en route to a 784 two-day total. Livingston, 804, was second, Laurel, 806, third, and Whitefish, 813, fourth.
Makaliah Wilson tied for seventh, Jaylin Kenney and Anna DiGiallonardo tied for ninth and Kat Medland tied for 14th.
Whitefish sophomore Erin Tabish finished third. She was seven shots behind the medalist, McKenzie Webinger of Laurel.
---
Polson Girls Claim Championship
By the Missoulian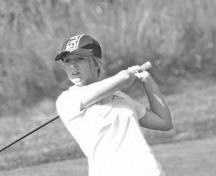 Hamilton: Polson made it a State A sweep for western Montana by securing top honors in the girls' competition. The Pirates finished with a team tally of 784, which was 20 strokes better than runner-up Livingston.
Makaliah Wilson paced Polson with a 36-hole score of 194 – good enough for a fifth-place tie. Others factoring in the team score were Jaylin Kenney and Anna DiGiallonardo at 195 and Kat Medland at 200.
McKenzie Webinger of Laurel earned medalist honors with a score of 158. Erin Tabish of Whitefish was third with a score of 165.
The top 15 individuals earn all-state honors.
GIRLS
Team scores: Polson 395-389-784, Livingston 397-407-804, Laurel 388-418-806, Whitefish 402-411-813, Anaconda 428-449-877, Lewistown 444-446-890, Dillon 450-441-891, Browning 449-464-913, BillingsCentral 471-470-941, Hamilton 480-462-942, Glendive 472-474-946.
Top 15 individuals
McKenzie Webinger, Lau 158
Kyla Clancy, BC 162
Erin Tabish, WF 165
Alexandra Huber, Ana 191
Emily Buckner, Liv 192
Christal Tokash, Liv 192
Makaliah Wilson, Pol 194
Carlee Hart, Lau 194
Jaylin Kenney, Pol 195
Anna DiGiallonardo, Pol 195
Allie Middlestadt, Gle 195
McKenah Blume, Ana 198
Madison Blass, FT 199
Kat Medland, Pol 200
Ashton Smith, Bro 200
Complete results
Sydney Smith, Lew, 203; Klaire Taylor, WF, 206; Leighton Hirsch, Bel, 210; McKenna Emmerich, CF, 211; Kassade Lemhouse, Dil, 212; Nicole Clairmont, Pol, 212; Charity Ratliff, Har, 212; Nicole Froelich, Liv, 212; Jodi Dion, Gle, 213; Sarah Boyer, Liv, 213; Simone Craft, WF, 214; Hannah Thomas, Lew, 218; Kelsey Peterson, 219;
Michaela Amunrud, Liv, 219; Melanie Galle, Ana, 220; Jennifer Vann, Lau, 224; Kristen Cottom, Dil, 226; Haley Craven, WF, 228; Meg Maclean, Ham, 229; Rayann Brown, Lew, 229; Alyssa Heath, Ham, 230; Elle Badgett, Lau, 230; Kali Harrington, BC, 230; Megan Ryan, MC, 230; Jessica Magee, Bro, 230; Kennedi Sheehan, Sid, 232;
Taylor Nelson, Dil, 234; Cheyenne Monger, Bel, 235; Cyan Old Cheif, Bro, 237; Mishaila Conway, Ham, 238; Marlee Thomas, Lew, 240; Morgan Love, CF, 243; Emily Winter, Ham, 245; Jamie Burman, MC, 246; Angie Iron Pipe, Bro, 246; Jenn Monger, Lew, 253; Jaymee Badgett, Lau, 257; Malia Morris, WF, 258; Brooke Phipps, Gle, 258; Ashley Munoz, FT, 261; Jordon Cunningham, BC, 261;
Jestin Murphy, Har, 263; Ashley Maes, Ana, 270; Emily Morley, Ana, 271; Maggie Panasuk, CF, 272; Terryn Williamson, Bro, 278; Brooke Herring, Gle, 280; Katherine Keith, MC, 282; Mackenzie Redman, BC, 288; Andrea Clark, FT, 334.