Thursday-Saturday, May 18-20, 2023
Saturday, May 20, 2023
Game 3 – Championship

Fisher pitches, hits Polson to state title
By FRITZ NEIGHBOR Daily Inter Lake
BUTTE – They didn't announce a most valuable player at the first-ever Montana All-Class State Baseball Tournament, but if they did, it would likely be Espn Fisher.
The Polson junior threw a solid seven innings Saturday, helped his own cause with a bases-loaded triple and is a big reason the Pirates are state champs with a 10-4 win over Whitefish.
Under hazy skies at 3 Legends Stadium, Fisher struck out nine while the Pirates (19-3) beat the Bulldogs (18-3) for the second time in two matchups this season.
"He was a dude today," said Brad Fisher, Polson's head coach and Espn's dad. "We talked about it, "we talked plenty of times about what our goal was at the end of the year. He knew he was going to get on the mound and shove. And hit. I'm really proud of him."
Fisher closed out Polson's 6-4 first-round win on Thursday, and on Saturday reached the Montana High School Association pitch limit" 110 pitches" on his first delivery to Whitefish 3-hole hitter Jake McIntyre with two out in the seventh.
McIntyre flew out to center to end it.
"We needed to do a better job getting deeper in counts," offered Whitefish coach Kyler Blades. "But he didn't let us. He pounded the zone and kept off-balance. What an awesome job.
"That last pitch was his limit, 110″. I know he can finish the batter and everything, but throwing 45 pitches on Thursday, catching Friday, throwing 110 today, wow."
The Bulldogs got to the final by throwing their two best pitchers, Jacob Polumbus and Ty Schwaiger, the first two days. Each threw a complete game; Schwaiger, an extremely hard thrower, was backed by 14 runs.
That left Whitefish to throw a "bullpen game," at Polson Saturday. Put another way, it was a catcher's duel between Fisher and the Bulldogs' everyday backstop, Fynn Ridgeway.
Ridgeway fanned two Pirates in the first inning but walked three in the second. With two outs, Fisher came up and stroked a fastball to the wall in right-center, putting his team ahead 4-1.
"I knew it was coming because last at-bat, he pumped three right by me," Fisher said. "I was like, He might throw it again.  I just sat back, threw my hands at it and hit it pretty good."
Fisher soon came in on a wild pitch and it was 5-1. After Dawson DuMont drew yet another walk, Ridgeway gave way to reliever Clayton Godsey.
Polson kept pushing: Jarrett Wilson hit an RBI triple in the fourth inning; DuMont hit a two-run triple in the sixth. DuMont came in on Cody Haggard's single for a 10-4 lead.
In between the Bulldogs put up three runs in the fifth, getting four straight two-out singles off Fisher. Schwaiger's two-run liner up the middle cut the gap to 6-4, but Fisher then settled down.
"We just tried to keep it positive and said, hey, let's just go win the inning," said Brad Fisher. "Keep doing what you do and it will work out for us."
Maddox Muller scored twice for Whitefish. Ridgeway recorded four of his five outs on the mound via strikeout. Schwaiger, who threw 88 pitches Friday, had two of his team's eight hits.
"We went with our guy (Friday)," Blades noted. "And we were confident in Fynn today (but) he's only pitched a couple times all year. And you know, a lot of these guys were put in positions they haven't been in before. Our second baseman hasn't played in 3-4 years, our third baseman hadn't played in 3-4 years  and we had a blast around each other."
"And that's what it's about at the end of the day, having a lot of fun playing baseball."
Quite a few of these players will turn around and play Legion ball: Whitefish feeds the Glacier Twins, and Polson does the same for the Mission Valley Mariners. "Matter of fact, we're going to start tomorrow," said Brad Fisher, who coaches the Mariners.
Twenty-one teams began the MHSA's inaugural baseball season and eight made it to Butte. Two Northwest Montana teams battled for gold.
"This was overall just such a positive thing for baseball, in the Flathead Valley and the community," Blades said. "I am humbled and blessed to be a part of it, and can't wait to see it grow."
Whitefish 100 030 0 – 4 6 1
Polson 140 113 x 10 9 0
Fynn Ridgeway, Clayton Godsey (2), Logan Kunz (7) and Jacob Polumbus, Ridgeway (2). Espn Fisher and Holden Emerson.
WHITEFISH – Polumbus 1-3, Maddox Muller 1-3, Jake McIntyre 1-4, Ty Schwaiger 2-3, Godsey 0-3, Ridgeway 0-2, Kunz 0-3, Josiah Ruther 0-3, Mack McLaughlin 1-2, Christian Schwaderer 0-1.
POLSON – Jarrett Wilson 1-3, Fisher 2-4, Dawson DuMont 2-3, Cody Haggard 2-4, Emerson 1-4, Aiden Gfroerer 1-3, Landon Pablo 0-3, Cymian Kauley 0-2, Landon Shoemake 0-1.
3B – Fisher, Wilson, DuMont. RBIs — Schwaiger 2, McIntyre, Fisher 3, DuMont 2, Wilson, Haggard, Gfroerer.
Whitefish vrs Polson Stats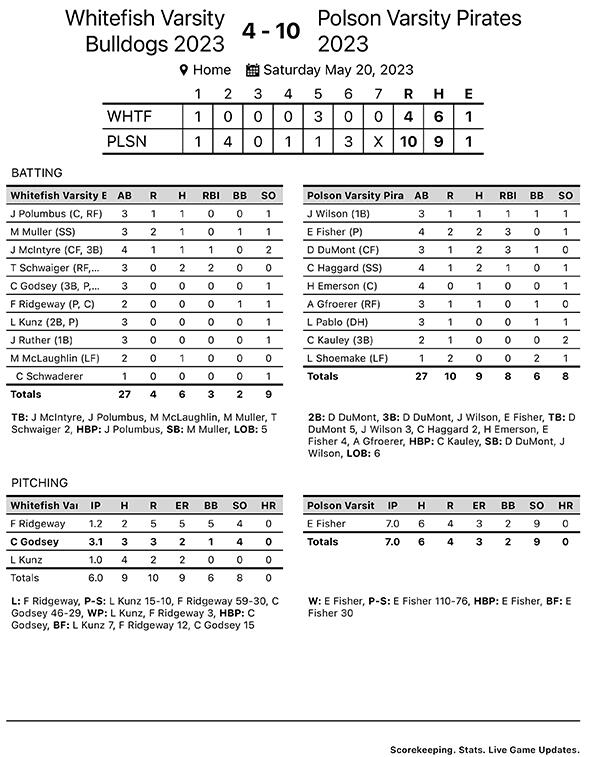 Thursday, March 18, 2023
Game 3 – Championship
Pirates win! Pirates Win!
Polson 6, Eureka 4
Playing in their first ever state baseball tournament Polson came through when it counted the most.
Both the Lions and Pirates turned in big fifth innings, but Polson's scores proved to be decisive.
The Pirates outscored Eureka 4-3 in the fifth to go up 6-4 for what ended up being the final score. Polson will face Florence-Carlton in a 9:30 a.m. semifinal on Friday while Eureka will take on Butte in a loser-out game at noon.
Polson scored in the bottom of the first and led Eureka 2-1 heading into the high-scoring fifth inning.
Sophomore left fielder Landon Shoemake led the Pirates with two RBIs on two hits and Jarrett Wilson scored three runs. Relief pitcher Espn Fisher earned the win with 2.2 innings pitched.
Eureka was led by a three-hit, two-RBI two-run performance from Tristan Butts.
Polson will play Florence-Carlton at 9:30am in the state semifinals on Friday. The game is scheduled to start at 9:30am in Legends stadium.
state tournament Polson vrs Lincoln Count stats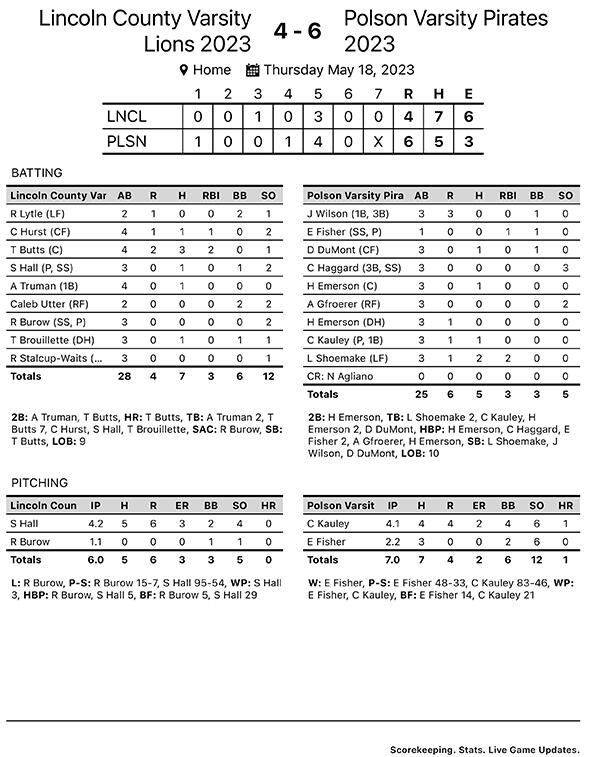 Friday, May 19, 2023
Game 2 – Semifinals
Polson, Whitefish to meet for first-ever championship
BUTTE – The championship game of the first-ever high school state baseball tournament is set.
Polson, which entered the tourney as the No. 1 seed out of the West division, will clash with Whitefish the No. 1 seed out of the Northwest  in the title game at 3 Legends Stadium at 1 p.m. on Saturday.
The Pirates fended off Florence-Carlton in the first semifinal before Whitefish rolled through Hamilton in the second semi.
Polson 5, Florence-Carlton 4
The Polson Pirates secured their spot in the title game by holding off the Florence-Carlton Falcons late in the game.
The Falcons took the first lead of the game, but Polson quickly tied it up and never relinquished the lead once it captured it in the second inning.
Polson scored at least one run in each of the first four innings, which was ultimately enough to hold off the Falcons' comeback attempt.
Dawson DuMont was on the mound for the Pirates and was a force throughout the game. He pitched six innings and allowed three runs on seven hits while tossing nine strikeouts.
"He (DuMont) is one of our best-kept secrets. We knew by the end of this weekend people will know who he is before we leave. He's been our leader all year, he hits the ball a ton and today he got on the mound and chucked it pretty well. I'm really proud of him," Polson head coach Brad Fisher said.
DuMont gave himself run support as well, driving in two runs on two hits. Polson opened up a 5-1 lead after four innings of play.
The Florence offense came alive in the sixth inning to give itself a chance. Chase Wagner and Tyler Abbott each drove in a run to cut the deficit to 5-3, but the Falcons stranded runners on first and second base.
The Falcons scored another run in the seventh inning to make it a one-run game. In relief of DuMont and with the pressure on, Polson's Cason Graham closed out the game in the final inning.
"If that was yesterday I think we would've crumbled, we had a little more grit today. We knew we would hit some highs and lows, but we need to stay in between the high and low. They did that, they trusted what we've been working on," Fisher said.
Polson Florence Semi Final Baseball Stats