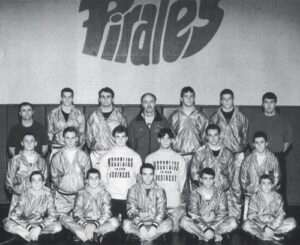 Pirates win second championship
And business has been great!
From the Leader
POLSON – Wrestling is the Pirates business and business was good. Last weekend's state Class A meet was essentially another day at the office for the defending champs.
"We came out of the blocks so dang well. I don't know if anybody's ever pinned 10 kids in the first round," reflected coach Bob Owen. Polson went 12 of 14 in the first round, with the 10 falls, then sent nine wrestlers into the semifinals on Saturday morning.
"It was pretty much a done deal after that first night of competition."
Did the coach deliver a pep talk? "I guess I did," Owen said with a laugh, but added that the team's success seemed nearly preordained.
Polson had already won a third Western A title, its own tourney and the Rocky Mountain Classic, and almost won Idaho's Tri-State and the Butte dual-meet competition as well. "We had nearly a perfect season."
Pirate champs Ryan Johnson (112) and Curtis Owen (152) dominated their classes. Johnson, a 1995 camp and two-time runner-up before that, stopped Laurel's Adam Meyer, 10-2. Owen beat Dusty Matson of Billings Central 6-1.
Pat Owen was up 4-1 in the second round of the finals at 105, but gave up three points on a late cradle and lost to Laurel's Eben Nose, 9-7. At 189, Central's undefeated Parker Aldrich pinned Forrest Wright in 5:29.
All told, Polson had 10 placers – "most of them wrestled just about to their potential," coach Owen said, even after they'd lost a bout.
Matt Owen got third at 135 and Josh Dwelle was third at heavyweight; fourths went to Shawn Johnson (98) and Sean Calahan (160); Shane Hitner (119) and Kory Newgard (130) each got fifth.
Polson will lose eight seniors, but Owen figures he'll have a good nucleus to build around next season, plus the benefit of two seasons at the top of the ladder.
"There's nothing to replace tradition. That's something we've fought for 18 years to establish," he said.
---
Second mat title "just as awesome"
By Rich Stripp of the Leader
Anybody see a flood warning posted at the Billings Metra last week?
People knew Polson would be coming on strong to repeat as state Class A wrestling champion. But they didn't expect that first purple wave to hit so decisively.
With 12 wins in their first 14 matches, the Pirates were pretty much a lock by late Friday morning. They wound up with 198 team points, 50 ahead of runner-up Colstrip. It was the largest margin of victory in the three enrollment classes.
"They tell us we're the best in the state at any level," head coach Bob Owen reported to a throng of fans at a Sunday afternoon pep rally. "The coach of Class AA champ Billings Skyview said he's glad Polson is still in Class A," Owen added.
The Pirates had individual champs in senior Ryan Johnson at 112 and junior Curtis Owen at 152. Johnson, who won at 105 last season, said he didn't feel a lot of pressure this time around, while Owen allowed that he was a bit nervous at first.
The big winner may have been senior Shane Hitner. Fifth on the mat at 119, the 18-year-old found a handy video poker machine at dinner after the finals Saturday night and collected $100.
For senior Sean Calahan, a state champ in 1995 and a fourth-place finisher at 160 last weekend, the tourney didn't seem like such a big deal at first. But as it wound down, a second straight team title looked sweet. "It's just as awesome as last year's win," he added.
Assistant coach Dennis Johnson credited senior leadership on the team. "Boy, did they deliver," added assistant Bill Owen.
"This is about hard work and dedication," Bill Owen said. "You can't believe what these guys put into it"
Ryan Johnson said everyone just hung close as a team despite being in the program everyone wanted to beat all season. Senior Forrest Wright, runner-up at 189, credited the coaches, while fellow senior Kory Newgard, fifth at 130, said the junior varsity wrestlers deserve a share of the spotlight, too.
In the end, everyone chanted for Bob Owen to take another turn at the mike. He acknowledged support from parents, cheerleaders and the administrators who helped develop a challenging schedule.
And when he sees such a big crowd of fans, Owen added, "I know we're doing the right thing."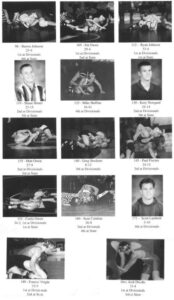 ---