Pirates defy odds on their field of dreams
by Rial Cummings of the Missoulian
We grow old, or at least older. We gain experience. We compromise. We doubt. We become cynical. We learn, grudgingly, perhaps imperceptibly, that dreams don't come true. We slide down that slippery slope that accepts the power and prophecy of words such as can't, won't, improbable, impossible.
We grow up.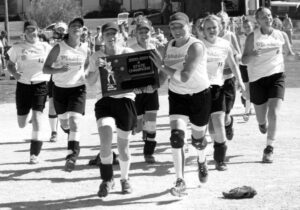 Maybe the best thing about covering high school sports is being around people who haven't quite grown up.
That means witnessing a lot of immature behavior, of course, which can be stupid, thoughtless, even nasty. But it also means experiencing the flip side: the bullet-proof innocence that counters cynicism, defies obstacles and, yes, bucks all odds.
So here's to Coach Larry Smith and the Polson Pirates, who won the first state Class A softball championship in school history last weekend.
When they lost on Thursday, their championship hopes went phhhhtttt. At least, they did to any knowing, experienced, grown-up observer.
Sure, the Pirates, who were 1-1, still had a chance to capture the double-elimination tournament. All they had to do was win seven straight games during the next two days. Winning seven straight isn't impossible – the Pirates won six straight during the regular season. But that streak came over the course of two weeks, not two days.
Two days? Against the best competition the state could offer? In a sport where pitching is paramount, and pitchers are limited to 14 innings per day? That's … improbable. To say the least.
"I sat down with the kids," Smith said, referring to the team meeting after a 3-1 loss to Hamilton, "and I told them, 'This thing is a long way from being over. With our ability, we can be in this thing to the end. But you're going to have to play every game from now on as if it was your championship game. Because it is.' "
"And you know what? They believed me."
Polson was buoyed by the deepest pitching staff in the field, plus the advantage of playing at home. Never underestimate the lift of mom's cooking.
Still, it basically came down to the Pirates' tenacity. They wouldn't give up, and wouldn't give in.
Polson opened the tournament with a victory over Hardin, then lost to Hamilton in the second round. On Friday, in losers' bracket action, the Pirates eliminated Ronan, Columbia Falls and Libby.
Then, on Saturday, Polson won four more games, three by one run. The Pirates eliminated defending state champ Butte Central 3-2, avenged the loss to Hamilton 4-3, then swept undefeated Laurel 5-2, in the first championship game, and 2-1 in the second title game.
Senior ace Amber Wock pitched complete games in the victories over Butte Central and Hamilton. Then it was senior Erin Turnage's turn, and she came through with a complete-game three-hitter in the first win over Laurel, beating the Locomotives' ace, Sami McDonald.
In the deciding title game, sophomore Brigit Johnson – who had pitched for the junior varsity most of the season – held Laurel to one run on six hits, with four strikeouts and no walks.
Smith said Wock, Turnage and Johnson combined to issue just five walks in nine tourney games.
Kdee Meidinger (.393), Lena Dailey (.370), Charmel Burke (.357, seven RBI) and Becky Owen (.354) were the Pirates' leading batters, while Ashley Meidinger, Jackie Johnson and Sarah McClain contributed timely hits. Johnson and Ashley Meidinger anchored the defense at shortstop and second base, respectively.
Winning the title was doubly sweet, since this tournament marked the culmination of a five-year effort to construct a softball complex – including four fields, stands, protective netting and a two-story concession building – good enough to host state events. The project, led by Smith, Rick Meidinger, Kevin McClain and Lloyd Turnage, was financed and built through the efforts of hundreds of volunteers.
As a result, Polson will host the tournament again next spring, giving the team an opportunity to defend its title on home soil.
Saturday night, after all the day's excitement, the Polson players couldn't bear to leave the field. So they didn't. They hauled sleeping bags to the outfield and slept under the stars.
In Polson, the adults built a field of dreams. Then they watched their children, against all odds, make those dreams come true.
POLSON – Polson's Brigit Johnson sparked the Pirates' 2-1 victory over Laurel for the Class A state title. Lena Dailey's sacrifice fly drove in Sarah McClain for the winning run in the second inning of the decisive second championship. Polson won the first championship game 5-2 as the Pirates battled back through the loser's bracket to claim their first state title.
Saturday
Second championship
Polson 2, Laurel 1
Laurel 100 000 0 1 5 3
Polson 110 000 x 2 3 1
Tiff Saatzer and Brooke Lowman. Brigit Johnson and Lena Dailey. W -Johnson. L -Saatzer.
LAUREL – ; Keoni Gallagher 1-3, Brooke Lowman 2-3, Tiff Saatzer 0-3, Tonya Saatzer 0-3, April Greer 1-3, Sami McDonald 0-2, Andrea Hagfeldt 0-0, Julie Wombolt 1-2, Whitney Jensen 0-2, Holly Brester 0-1, Megan McLeod 0-3.
POLSON – ; Dailey 0-1, Jackie Johnson 0-1, Ashley Meidinger 0-2, Charmel Burke 0-2, Kdee Meidinger 2-2, Becky Owen 0-3, Sarah McClain 1-3, Erin Turnage 0-3, Carly Nelson 0-1.
2B- Gallagher. RBI -Tiff Saatzer, Dailey, K. Meidinger.
First championship
Polson 5, Laurel 2
Polson 021 020 0 – 5 11 4
Laurel 002 000 0 – 2 3 0
Turnage and Dailey. McDonald and Lowman. W – Turnage. L – McDonald.
POLSON – Dailey 2-3, Johnson 2-2, A. Meidinger 0-3, Burke 2-4, K. Meidinger 1-3, Owen 2-4, McClain 2-3, Turnage 0-3, Nelson 0-3.
LAUREL – Gallagher 1-4, Lowman 1-4, Tiff Saatzer 0-4, Tonya Saatzer 1-2, Greer 0-1, McDonald 0-3, Wombolt 0-3, Amanda Preston 0-2, Brester 0-1, Tara Bummer 1-0, McLeod 0-2.
2B – McClain, Lowman. RBI -Dailey, Johnson, McClain 2. Lowman 2.
Loser-out
Polson 4, Hamilton 3
Polson      300 100 0 – 4 7 1
Hamilton 000 010 2 – 3 9 3
Amber Wock and Dailey. Melissa Weston and Ashley Dutton. W – Wock. L – Weston.
POLSON – Dailey 3-4, Johnson 1-4, A. Meidinger 0-3, Burke 0-4, K. Meidinger 1-4, Owen 1-3, McClain 0-2, Wock 0-3, Turnage 1-3.
HAMILTON -Krystle Peterson 4-4, Weston 0-3, Karly Manning 2-4, Kristin Hanson 0-3, Dutton 1-3, Chelsey Smith 1-2, Sarah Fraser 1-3, Sarah Stamper 0-3, Jenna McCartney 0-3.
2B – Smith, Johnson, Turnage. 3B -Manning, Dailey. RBI -Manning 2. Dailey, Johnson.
Loser-out
Polson 3, Butte Central 2
Polson   111 000 0 – 3 6 1
Central 000 110 0 – 2 6 4
Wock and Dailey. Liz Henrich and Ciana Roeber. W – Wock. L – Henrich.
POLSON – Dailey 0-3, Johnson 1-3, A. Meidinger 1-3, Burke 0-3, K. Meidinger 1-3, Owen 2-3, McClain 0-1, Wock 1-3, Turnage 0-3.
CENTRAL – Lindsay Thatcher 2-3, Meghan Foley 1-3, Kelsey Orizotti 1-3, Roeber 1-3, Henrich 0-3, Erica Mahoney 0-3, Aimee Stagnoli 1-3, Jessie VanDaveer 0-2, Tiffany Brown 0-1, Susie Regan 0-1.
2B -Johnson. RBI -A. Meidinger, Wock, Thatcher, Henrich
Semifinal
Laurel 2, Hamilton 1
Hamilton 000 000 1 – 1 5 2
Laurel       200 000 x – 2 3 0
Weston and Dutton. McDonald and Lowman. W – McDonald. L – Weston.
HAMILTON -Peterson 0-3, Weston 0-3, Manning 1-3, Hanson 1-3, Dutton 1-2, Smith 0-3, Fraser 2-3, Stamper 0-2, McCartney 0-2.
LAUREL -Gallagher 0-2, Lowman 1-3, Tiff Saatzer 0-3, Tonya Saatzer 0-3, Greer 0-2, McDonald 1-3, Preston 0-2, Wombolt 1-2, Brester 0-1, Hagfeldt 0-1.
RBI -Fraser, McDonald 2.
Friday
(No box scores available)
Polson 5, Ronan 2, loser-out
Columbia Falls 6, Corvallis 1, loser-out
Butte Central 7, Hardin 2, loser-out
Whitefish 14, Glendive 1, loser-out
Hamilton 2, Billings Central 0, quarterfinal
Laurel 2, Libby 0, quarterfinal
Polson 8, Columbia Falls 0, loser-out
Butte Central 6, Whitefish 2, loser-out
Polson 14, Libby 1, loser-out
Butte Central 3, Billings Central 1, loser-out
Saturday
9 a.m. – Laurel vs. Hamilton, semifinal
9 a.m. – Butte Central vs. Polson, loser-out
11 a.m. – Butte Central-Polson winner vs. Laurel-Hamilton loser, semifinal/loser-out
1 p.m. – Laurel-Hamilton winner vs. 11 a.m. winner, championship
3 p.m. – Second championship, if necessary
Thursday
Western A's Libby, Central A's Hamilton win openers
POLSON – The Butte Central Maroons might still win their third consecutive state Class A softball title, but the road took a detour at the state Class A tournament on Thursday.
After receiving a first-round bye, the Central A Maroons lost to Eastern A Laurel Locomotives 2-1 as Sami McDonald struck out five and allowed just three hits. The Maroons will need to win seven straight games to claim their third straight title and fourth in five years.
The road to a state championship is much easier for Central A champion Hamilton and Western A champion Libby.
The Broncs and Loggers each received first-round byes and then notched impressive wins in the second round.
Behind the pitching of junior Melissa Weston, Hamilton knocked off tournament host Polson 3-1.
Libby scored a 7-3 victory over Western A rival Whitefish, which drilled Corvallis 11-3 in the opening round.
In other second-round games, last year's runner-up Billings Central beat Columbia Falls 4-2. The Wildkats beat Eastern A Glendive 17-0 in the first round. It was the most lopsided game of the day
Polson opened with a 4-0 win over Hardin. Laurel nipped an improved Ronan team 4-3 in the first round.
Hamilton (19-4) will meet Billings Central (17-6) in a quarterfinal game on Friday at 1 p.m. Hamilton beat Billings Central 6-0 two weeks ago at the Butte Central tournament.
Laurel (19-5) battles Libby (15-8) in the other 1 p.m. quarterfinal game. Laurel beat the Loggers 11-3 at the Butte Central tourney.
Hamilton 3, Polson 1
Hamilton 3, Polson 1: Ashley Dutton's bloop single down the right-field line scored two in the bottom of the sixth to give the Broncs the second-round victory. Karly Manning went 2-for-3 with an RBI and ace pitcher Melissa Weston got the complete-game victory for the Broncs. Weston fanned three and improved to 16-3. Polson senior Ashley Meidinger went 2-for-3 with a double to lead the Pirates.
Polson      100 000 0 – 1 8 1
Hamilton 100 002 x – 3 7 1
W – Melissa Weston L – Amber Wock
POLSON – Leena Dailey 1-4, Jackie Johnson 1-3, Ashley Meidinger 2-3, Charmel Burke 1-3, Kdee Meidinger 1-3, Becky Owen 1-3, Sarah McLain 0-3, Erin Turnage 0-3, Carly Nelson 0-3.
HAMILTON – Krystle Peterson 1-3, Weston 1-3, Karly Manning 2-3, Kristin Hanson 0-1, Ashley Dutton 1-3, Chelsey Smith 1-3, Sarah Fraser 0-2, Sarah Stamper 0-2, Jenna McCartney 0-2.
2B – A. Meidinger, Peterson. RBI – Burke, Manning, Dutton 2.
Polson 4, Hardin 0
Amber Wock limited Hardin to four hits as Polson earned a first-round shutout of Hardin. Charmel Burke led the Pirate offense, going 2-for-3 with two doubles and two RBIs. Becky Owen added a double for Polson.
Polson  3 0 1 0 0 0 0 – 4 6 1
Hardin 0 0 0 0 0 0 0 – 0 4 2
W – Amber Wock L – Melissa Roth
POLSON – Lena Dailey 1-3, Jackie Johnson 1-2, Ashley Meidinger 0-3, Charmel Burke 2-3, Kdee Meidinger 1-3, Becky Owen 1-3, Sarah McLain 0-1, Erin Turnage 0-3, Wock 0-2, Bridget Johnson 0-1.
HARDIN – Lindsey Corbin 0-3, Randy Hart 0-3, Roth 1-3, Molly Seder 2-3, Tana Perez 0-3, Kiera Pattison 1-2, Kate Koyama 0-3, Lindsey Burroughs 0-3, Jamie Torske 0-2..
2B – Owen, Burke 2. 3B – Roth. RBI – Burke 3, K. Meidinger.