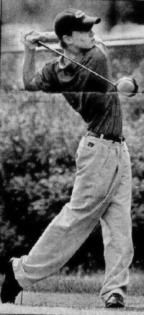 Top Individuals
x-Jeff Dooley, Polson 71-76–147
Nick Obie, Havre 73-74–147
Colt Vanderwerker, Bil. Central 77-71–148
Mark Dolven, Whitefish 72-77–149
James Russell, Dillon 73-79–152
John Nielsen, Bil. Central 73-80–153
Kyle Duty, Whitefish 77-76–153
Raymond Pitman, Col. Falls 78-75–153
Monte Jenkins, Ronan 77-76–153
Robert Sullivan, Whitefish 77-77–154
x–Won title on fourth playoff hole
Junior Jeff Dooley walked away a champion from the state golf tournament in Whitefish held 16-17 May.
During the divisional tournament, Dooley sunk an 81 the first day and 82 the second day to make it to the state tournament. "I was in a slump at divisionals, but I knew I could come out of it," said Dooley.
At state, Dooley put in at least three hours of practice a night with the state competition constantly in mind.
Dooley shot a 71 the first day and 76 the second day, leading the state tournament both days until the last hole when Havre's Nick Obie sunk a 15 foot putt to tie it up after Dooley bogied the hole. The two then went into a sudden death playoff. The playoff lasted for 4 holes until Dooley chipped in for a birdie, winning him the first place title.
"I was pretty nervous too at the beginning of the playoff, but I knew I was a top competitor," said Dooley.
Dooley seemed to be excited about his win. "I didn't know what to do when I won, I was just stunned," said Dooley, but he soon settled into the notion.