Polson wins The Big Race
by Rich Stripp of the Leader
POLSON – Just in time for the election, here's an up-by-your boot straps story that should appeal to voters of any persuasion.
Consider this, Republicans: Polson High School's cross country team is the epitome of laissez-faire, hands-off, no big government as usual. The school paid the runners' state activity fees so they could compete. But to actually hit the road in their hand-me-down track uniforms, the team had to hold a rummage sale to cover travel costs. The private sector at work, right?
And Democrats will be pleased to know that a purple – er, rainbow – coalition of athletes, parents and fans came together last Saturday in Helena, where the girls won the state Class A team title. It was Polson's first girls state championship of any kind. Ever.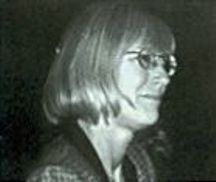 "I can't quit smiling," said coach Mindy Harwood Sunday night. Harwood has seen the team develop from the dream of a few students and parents to reality last fall, when the runners showed they could compete with just about anyone. This season, both the boys and girls repeatedly shattered their own course records. The girls won the divisional meet Oct. 21—and together survived a bout with the flu brought on by a post-meet victory dinner.
In Helena, senior Abi Friesz told her teammates she didn't want to let them down, according to Harwood. It was Friesz's family, which had approached school officials about setting up a cross-country team a couple of years ago.
After striking gold in state track competition, Friesz was hampered by injuries in Polson's inaugural cross-country season. She made up for that last Saturday, earning all-state honors with a fifth place finish in 20:02 over the three-mile course. She was the top Western A finisher.
Coach Harwood said the next four scoring runners came in "like one big, beautiful purple wave." Cori Tingle just missed all-state recognition, finishing 16th at 20:37. Jody Zimmer was 19th in 20:41, Susan Tubb was 21st in 20:42 and Lisa Nesladek was 35th in 21:20.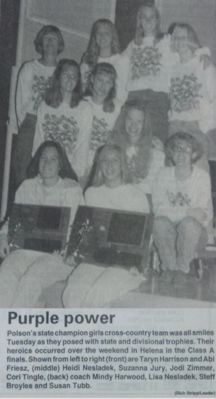 Also placing in the 137-runner pack were Heidi Nesladek, 35th in 21:20, and Steff Broyles, 87th in 23:01. Harwood said everyone passed someone else on the way in to beef up their scoring.
Polson nipped Lewistown 85-86 for the team title. But Polson had one last hill to top when third-place Colstrip challenged the scoring, citing a pile-up near the finish.
Harwood almost missed the awards presentation after 90 minutes of wrangling – she had to get the boys team ready to run. Finally, after looking at films, officials upheld the order of finish.
The boys' race was worth the distraction. Polson ran sixth overall, just behind conference foe Libby and ahead of rival Columbia Falls. Sophomore Kyle Wies was the top conference finisher, placing fifth in 16:21 to earn all-state honors. Freshman Sam Friesz also got all-state honors with a 16:47 clocking, good for 11th.
Jace Harwood was sixth in 17:21, Kory Newgard 46th in 17:57, Corey Bertch 58th in 18:21, Kevin Zimmer 65th in 18:39 and Willy Becker 77th in 19:28.
"I've been very pleased with these young men all season long, and next year they'll be really dangerous," coach Harwood predicted.
Really good navigators, too, coach. Wies noticed some fire trucks lined up east of town Saturday night as the team bus drove by and suggested to Harwood that they turn back to join them. It turned out to be the start of a mile-long victory parade, leading to a rally at the high school.
---