"We had a hand in every face"
Defense, desire lead Pirates to first-every Class A basketball championship
by Dixie Miller of the Leader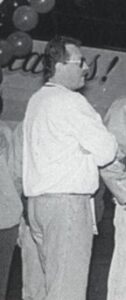 "I love tournaments. Absolutely anything can happen."
That's what Polson coach Joe McKethen said just before the pirates boarded the team bus for Butte and the Class A basketball finals.
"Absolutely anything" did – with a 59-58 overtime win over Belgrade's Panthers, the Pirates captured their first-ever state championship. Polson also took home sportsmanship honors and placed two players – Neal Smith (the tournament MVP) and Jason Smith on the all tournament team.
It wasn't pretty – the one thing that's won ballgames for the Pirates all season – clutch free throw shooting – deserted them at the end. McKethen attributed that 10-24 statistic to "the old state championship jitters."
Polson beat Central A champion Havre 66-59 in Thursday's opening round, then Friday showed Whitefish and that February's Western A divisional was no fluke with a 54-52 win.
The championship was "a very interesting ballgame," said McKethen. The Pirates couldn't have asked for a more perfect situation- they'd been in control all the way and were where they usually feel most comfortable – at the free throw line.
But on this night, the ball bounced off the front of the rim. Polson made two of eight fourth period free throws. The panthers rewarded each miss with a three-point basket at the other end and closed a ten point deficit to nothing in the last 1:26 of regulation.
"None of those would have mattered if we had knocked down our free throws," McKethen said of Belgrade's three-point shooting.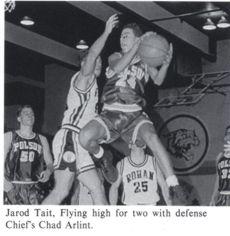 Things looked bad for the Pirates when Belgrade's Craig Gilbert started overtime with a three-point play, then Josh Richards fouled out at the 2:14 mark. Neal Smith brought Polson within one with a lay-up, Jarod Tait finished the scoring by making both ends of a one-and-one penalty with 21 seconds remaining. Smith stole the ball with six seconds left. He was fouled and missed the free throw, but Belgrade's last-ditch desperation shot bounced harmlessly of the glass.
Neal Smith finished the night with 28 points, 14 boards, three blocked shots and three assists.
Junior Jason Smith had the tournament of a lifetime. He had a career-high 21 points in Friday's semi-final, 13 points against Havre and capped it off with 18 in the championship.
"He's always always been a real consistent player for us. I think he made up his mind to set up his offense. With his quickness, he can penetrate for us. We run a patient offense. There's opportunities for Jason to go to the basket. When he takes the ball to the basket," McKethen said, "well, that just really makes things nice."
"How many times have we gotten behind and the kids just wouldn't die?" McKethen asked. "I'm just so very proud of those kids," he added. "This is long overdue – long overdue. To finally capture the big one is just a fantastic feeling."
Defense was the key. "These kids play team man-to-man defense better then any other kids we've had. We had a hand in every face," he added. Opposing coaches have been talking about their teams going cold shooting against Polson all year, h said. "Somewhere along the line our kids have got to get some credit for some defense."
Polson held Havre to 40 percent shooting, Whitefish to 35 percent and Belgrade to 33 percent. "Our defense in the second and third quarter was outstanding."
"We all knew going in that any of those eight teams could win. It came down to,'who's going to play the best basketball this weekend?" he said.
Polson was "concerned because of their size and their good athletes," the coach said of the opening round with Havre. "Their big people weren't really a factor. We shut them down pretty good." The Pirates shot 55 percent from the field. They led all the way and out grabbed the Blue Ponies 29-27 on the boards.
The Whitefish game was a carbon copy of the divisional semi-final. Polson was down 6-15 early, but went up a 200-3 run and were up 29-23 at the half and 39-31 after three.
"I think these kids proved to themselves and to everybody else that was no fluke."
---
Purple reigns in state hoop final
By Rich Stripp and Dixie Miller or the Leader
Purple has long been the color of royalty, and after an often-spell binding 35 minutes of basketball Saturday night, the Pirates proved their right to wear it as state Class A Champs.
Unheralded Polson beat the Belgrade Panthers 59-58 in overtime at the Butte Civic Center for the school's first-ever hoops crown. PHS activities director Dennis Jones says it was the first athletic championship of any kind since a track title in the early 1980's.
For the win, the Pirates—who finished 15-9—survived chilly free throw shooting and a Panther run that erased a 10-point lead in the fourth quarter. The game was tied 53-53 after four, but the Pirates sealed it when Jarod Tait sank two crucial freebies in OT and Neal Smith stole a late pass.
The party started when the final buzzer sounded – "I thought in the Civic Center that we'd never get them out of there," Jones said. Fans put on a small rally in a restaurant after the game and the team had an escort of sorts all the way from Butte.
The real parade started a little southeast of town. "The closer we got to Polson the quieter in got on the bus," head coach Joe McKethen said. Congratulations on business Marquees awaited them, along with a huge purple-and-gold balloon arch across Main Street. "They (the kids) noticed every little thing."
"That's the best thing I've ever seen in my life in Polson," Neal Smith said.
Players, coaches, and cheerleaders rode firetrucks through the chilly streets for half an hour before alighting at the old middle school gym—their home court—for a pep rally.
"If the kids had known this was going to happen, we wouldn't have missed all those free throws last night," McKethen Quipped to an estimated1,000 fans in the gym.
The coach went on to praise the team for jelling even as it was being hampered by illness and injury. " We never did get to practice much together," he said. But senior guard Kris McKethen, the coach's son, added: " We had a lot of belief in ourselves."
The team motto was "Refuse to lose." Kris actually lost a bet to senior Josh Richards and shaved his head bald after the game Saturday night. Richards, meanwhile, has gone to California early Sunday to look into a couple of college baseball scholarship offers.
Tait and the Pirates vowed to go all the way after they watched Butte Central win the crown last season. "That's what we wanted out of our next year." He said. Butte Central was one of Polson's victims as the team started building momentum in the last half of the regular season.
Coach McKethen said the turning point came after the divisional tourney.
In Practice, the Pirates had looked on an eventual semifinal bout with top-ranked Whitefish as a positive game to Ronan for the Western A title. Coach McKethen said an outpouring of fan support lifted the team out of its depths.
"That really helped pick us back up…That really propelled us into the state tournament."
In Butte, PHS defeated Havre on Thursday and then revenge-minded Whitefish in Friday semifinal.
Senior post Neal Smith shined in all three games and was named MVP of the tourney. Obviously moved by the pep rally crowd, he quietly noted that everyone now knows Polson can win, so the team should do it again next year.
"I'm almost a speechless, man," said senior guard Daniel Caye.
Tait praised the seniors' leadership, calling Neal Smith the hardest worker he's ever seen. He also thanked his family for their support. Jarod's father, Karl Tait, is a former Pirate mentor.
So is Toby Nelson, whose long career started at PHS in 1948. "It was a big three days," he said of the tourney in Butte. "I've been waiting 45 years for this."
Toby's son Steve is a Pirate Assistant coach. He thanked all the alumni who showed up to wave the flag in Butte. "We certainly will never, ever forget that."
"Now we can say it," added assistant Bruce Thomas. "We're Number one!"
Coach McKethen too, had words of appreciation for the pep rally crowd: "You're all, a part of this—this is for the community."
Dennis Jones, who may or not retire this year form a position he as held since the mid-1960's, said the Pirates' win is a big shot in the arm for a community that has seen its share of controversy in the schools lately. "An infusion of anything this positive can't do anything but help."
"It's been incredible – the phone calls…," McKethen said. "I'm just so very proud of those kids."
---
Sportsmanship award the "icing"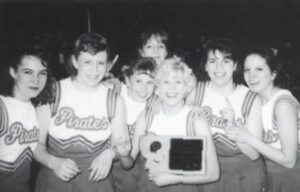 POLSON- Along with their first ever Class A state basketball championship trophy, the Polson Pirates brought home the first state tourney sportsmanship trophy last weekend.
"That was kind of the icing" according to Dennis Jones, PHS activities director.
School administrators have worked long and hard to "keep the kids positive instead of negative," he said. Sportsmanship is "nothing more than respect."
Montana High School Association evaluators observed the players, cheerleaders, the pep band and both student and adult cheering sections. Fans and players were judged how they handled officials' decisions, whether or not they ridiculed the other team and how they supported their own team.
Winning both awards just shows "being a good sport doesn't mean the good guys always finish last," Jones said.
—-Dixie Miller