The Pirate Speech Team became the 1984-85 Class A State Champions Jan. 26 in Great Falls. The team topped Class A rivals Dillon and Billings Central to win the honors.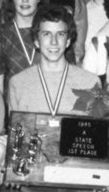 Mike Reiners, junior, was Polson's only individual state champion. Reiners won top honors in Lincoln-Douglas debate, winning six of seven debates over the issue of freedom of the press. Senior Eric Pedersen won second place in Extemperaneous Speaking. The speeches in this category are over national and international current events. Sophomore Kathy Harding placed third in Humorous Interpretation of Literature. One of the selections Harding used was a work by Dr. Seuss. Barrb McAlping, junior, was a finalist in Impromptu Speaking. Contestants in this category develop a short speech from a cartoon about a values issue such as conservation, environment, death, etc.
The team was led by head coach Mac Swan assisted by Judie Woodhouse and Pat McLaughlin. Over the season the Pirate Speech Team claimed three other first place trophies, including the divisional championship in Polson on January 19th.
The Coaches

Head Coach
Judie Woodhouse

Asst.- Mac Swan

Asst. – Pat McLaughlin