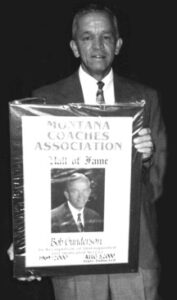 Coach Gunderson was at the Pirate helm for 34 seasons.
Pirate teams produced more than 50 Individual State Champions in the 34 years that Coach Gundersonwas head track coach at PHS. They had one high-school all-american performer (Scott Dupuis – '86) and one Gatorade Player of the Year for the State of Montana (Kyle Wies – '96). One former Lady Pirate, Melinda Owen, is currently working with the Olympic development center in the hopes of participating in th 2012 Olympic games in the polevault.
The Pirates lost team state championships by one-half point in 1995 and by 1 point in 1984. The 107 points scored at the 1996 state meet was the most by a Class "A" team ever at that time.
Coach Gunderson took over a unified track and field program in 2008. His Lady Pirates were the state champions in 2008, defeating two-time defending champion Belgrade 77-66. The Lady Pirates won the divisional and finished 3rd at state in 2009. They repeated as divisional and state champs again in 2010.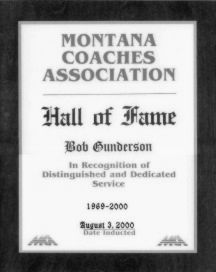 Much of the success of the Pirate track and field program is due to an excellent staff of assistant coaches. Some of them: Mindy Harwood, Daren Gunlock, and Bruce Thomas were part of the program for over 20 years and Rob Kelley and Brian Havlovick made significant recent contributions.
Pirate track teams won 10 Divisional Championships and well as numerous 2nd and 3rd place finishes during Coach "Gundy's" tenure. Their record at state includes two State Titles (1981 and 1996), four 2nd Place finishes (1984,1995,1997,1999), and four 3rd place finishes (1979, 1983, 1998, 2000). They have brought home a divisional trophy in each of the last 14 seasons. Six firsts, seven seconds, and one third.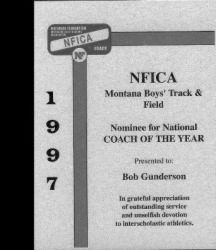 As an assistant coach at Havre High School (2 years – 1969 and 1970) Coach Gunderson was part of 1 State Track Championship and 1 State third place finish as well as 1 Eastern A Divisional Championship.
Coach Gunderson was nominated as the Montana Class A Track Coach of the Year 13 times and selected four times (1981, 1996, 2008, 2010). He was the Section 8 Regional Track Coach of the Year (Idaho, Oregon, Washington, Wyoming, Alaska) twice (1997 and 2011). Gunderson was also nominated for National Coach of the Year honors in 1997 and 2011. He was nominated and elected to the Montana Coaches Association Hall of Fame in March of 2000. He was inducted into the HOF at ceremonies held during the MCA coaching clinic in Great Falls on August 3, 2000.
Bob Gunderson (Karen) – MCA HOF Class of 2000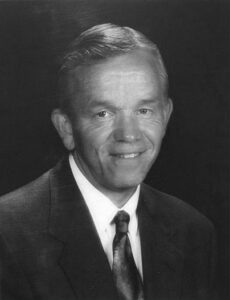 Longevity and Service
44 Years
1969-71: Havre High School – Asst. Boys' Basketball, Asst. Boys' T&F
1971-73: Plains High School – Asst. Football, Boys' Basketball
1973-76: Chester High School – Asst. Football, Boys' Basketball
1976-2013: Polson High School – Cross Country, Girls' Basketball, Asst. Boys' Basketball, Boys' Basketball, Asst. Girls' T&F, Boys' T&F (34 yrs,)
Success
Divisional Champion Boys Track & Field 8 times(1984, 1986, 1990, 1995, 1996, 1999) , 13 2nd place finishes, 2 3rd place finishes
Divisional Champions Girls Track & field (2009. 2010), 2nd place Girls Track & Field 2008
5 consecutive subdivision championship finishes in the 80's
State Third Place Boys Track & Field (1980, 1981, 1983)
State Third Place Girls Track & Field (2009)
State Runner-Up Boys Track & Field (1984, 1995, 1997, 1999)
State Champion Boys Track & Field (1981, 1996)
State Champions Girls TRack & Field (2008, 2010)
Professional Service and Honors
MCA Hall of Fame 2000
MCA Coach of the Year: Class A Boys' T&F – 1981, 1996
MCA Coach of the Year: Class A Girls T&F – 2008, 2010
Nominated MCA Coach of the Year: 13 times
MCA 40 Year award
MCA Member:  40+ years
Region 8 Track and Field Coach of the Year (1997, 2012)
Nominated National Coach of the Year 2012
Basketball MOA: 19 years
Big Sky State Games:  Volunteer Official
TAC Coach and Volunteer
AAU Track and Field Coach and Volunteer
50 plus Individual State Champions
1 High School All-American 1986
1 Gatorade Player of the Year 1996
As an assistant Coach at Havre( 1969, 1970): part of 1 state Track & Field Championship, a 3rd place finish and an Eastern A Divisional Championship
As an assistant girls track coach at Polson: part of 2 State Track & Field Championships(2003, 2004) and a State 3rd place finish (2000)