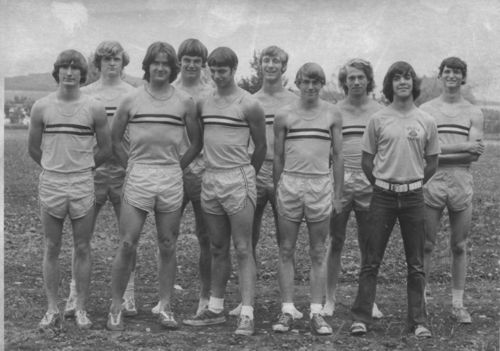 First Row (L to R) Russ Riebe, Chris Stark, Brian Sanford, Cliff Allison, Mgr. Pete Bishop
Second Row (L to R) Jeff Stark, Mike Wilson, David Iliff, Mike Morigeau, Pat LeBrun
Polson Pirates Win Class A State Title
From the Flathead Courier
The Polson Pirate delegation to the state track and field meet in Missoula last weekend kept up a steady, relentless pace to outlast Butte Central and wrap up the Pirates first state track title in nine years.
Good Pirate performances in the last two events were enough to get a 35-29 team win over Butte Central.  The Pirates got a second from Dave Iliff in the low hurles and captured the mile relay with Clifford Allison turning an outstanding anchor leg run for the winning margin.
The Pirate 880 relay team of Brian Sanford, Chris Stark, Dave Iliff and Jeff Stark took first place with a time of 1:31.8; Iliff was third in the high hurdles – 15.2, second in the triple jump   44 ft. 8 1/4 in., and second in the low hurdles – 20.2.
The mile relay team's time was 3:30.  On the team were the two Starks, Iliff and Allison. Sanford took first in long jump with 21 ft. 3 1/2 inches.
Polson's Mike Wilson placed fourth in pole vault with 12 ft. 6 in.; and Allison took a fifth place in the 880 with a time of 2:02.8.