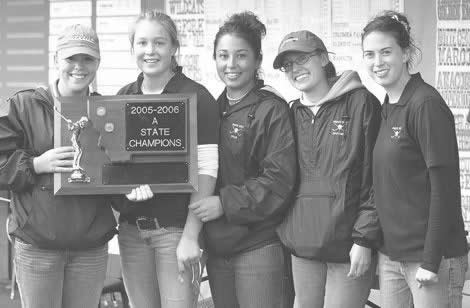 Lady Pirates dominate, capture state golf title
By Ethan Smith
Leader Staff
The Polson Lady Pirates golf team put last year's demons to rest by taking the state Class A golf championship in dominant fashion last Friday afternoon, led by an all-senior lineup that included individual state runner-up Jenn Orchard, Kristine Samsel, Sami Beaver, Whitney Pitts and Stephanie Rowold. It was Polson's first girls golf title.
Orchard lost by one stroke in a sudden death playoff hole to Hamilton's Amy Nordeen, but that didn't diminish the girls' accomplishments as they bested Whitefish on their own course and Miles City, who came from behind last year to snatch the victory from the Lady Pirates.
The Lady Pirates finished the two-day tourney with a score of 721 — a full 25 strokes ahead of second-place Whitefish, and more than 80 strokes ahead of third-place Miles City.
The boys also did well, finishing fifth out of 12 teams and seven strokes behind Ronan, which took fourth. The Whitefish boys ran away with the tourney, finishing almost 40 strokes ahead of second-place Billings Central, and all five of their golfers finished in the top 15.
Kellan Mills, Jason Newton, Shawn and Harry Medland, and Chris Hanson rounded out the boys team and held their own against stiff competition from around the state. (As an indication, less than 25 strokes separated third place from sixth place on the boys overall team finishes.)
"As a team they didn't do badly. It was a very good improvement over where they'd been earlier in the year," said head coach Bill Owen.
Although there was plenty of action on the boys side, the girls individual and team titles were up for grabs throughout most of the two-day tourney. It began with a good performance by the girls on Thursday, with Orchard, Samsel and Rowold all finishing in the top 10.
Pitts and Beaver also shot well, finishing ahead of about 70 percent of the rest of the field. (Friday's daily newspapers reported Pitts shot a 131 on Thursday, but that was an error. She finished ahead of most of the pack with a respectable 99, which was recorded as the official score.)
Thursday's play was led by Hamilton's Nordeen, who turned in an 80, while Orchard finished with an 83.
It was only fitting then that Orchard would claw her way back with an 80 on Friday, literally tying Nordeen's two-day score with a 22-foot putt on the 18th hole Friday afternoon to finish the round. Nordeen shot an 83 on Friday.
The girls were about 80 percent sure they'd won the team title before Orchard finished, but without knowing her score, they had to wait for a final tally. Even more suspenseful was the wait for the individual tallies, when it was announced that Orchard and Nordeen would have to have a playoff, starting at the first hole.
Orchard said she had no way of knowing she'd tied Nordeen until tourney officials informed them.
"That was the first year I didn't bother to keep track of my score," she said afterwards.
Event organizers asked spectators to remain about 100 feet behind the girls to give them some breathing room, and Orchard and Nordeen teed off in front of about a 100 Polson, Ronan, Hamilton and other fans who gathered to watch. The girls strolled up the fairway, laughing together and trying to calm their nerves.
Orchard's tee shot was better but she had a harder time finding the green, although Nordeen had trouble, too. In the end, Nordeen won by one stroke, taking the title Orchard earned last year.
Orchard was gracious in defeat and displayed great sportsmanship and poise in congratulating Nordeen on her victory as the girls walked back to the pro shop area to accept their individual and team awards.
Orchard said she's been playing with Nordeen since her freshman year, and other than Samsel, she couldn't think of anyone who deserved the individual title more.
For the girls team, it was a fitting way to end the year after finishing second the past two years. All five of the team members are seniors, but Owen said he's got a couple of good prospects that will come up to varsity next year.
---
Divisional Results
The Polson girls came out on top again, led by Jenn Orchard with a score of 84, while the Ronan girls finished third, led by Shayla Couture who shot an 86 — the second highest score in the field.
On the girls side, Kristine Samsel turned in another stellar performance, getting an 86 along with Couture and two other Whitefish players. This was the third time in four meetings that the Polson girls have bested the Lady Bulldogs team, who will be the team to beat at state, along with Miles City.
The Lady Pirates had to wait with fingers crossed after all of the Whitefish players had turned their cards in, as Whitney Pitts and Stephanie Rowold were still out on the course, and the team's overall fate hung in their hands. But both of them came through in the clutch, shooting a 90 each to give the team the victory — their best performances of the season.
Ronan's Lindsey Cornelius and Polson's Sami Beaver also finished in the top 15, which would have earned them a trip to state even if their teams hadn't won. On the boys side, Josh Grenier looked solid again, finishing sixth out of the entire field with a 76.
All of the golfers had to battle rainy conditions all day, which affected their games, so most of the scores were a few strokes higher for everyone.
"All of them stepped up. I told them the night before to relax and let themselves do what they had to do," Owen said.
The most pressure will probably be on the Polson girls, who watched a big lead fall after the first day as Miles City came back to win it last year on the second day. The Lady Pirates finished second last year, ahead of Whitefish, who will have home field advantage this year.