Blonde ambition

New tresses help speed Polson's cross country team to Class A championship
by Rich Stripp of the Leader
POLSON – for the second time in three years, Polson High School's fledgling cross country program has brought home a state championship.
The boys team – sporting new blond hair jobs self administered last week – ran away with the class a Kyle Wies was a repeat individual champ.
"Those kids just ran out of their heads. every one of them," said coach Mindy Harwood.
Cross Country didn't even exist at PHS until 1993. that first fall, the team was set up as a club and had to hold fund-raisers to pay its way to meets. in 1994, the girls claimed the Class A title, the first state championship by any female team at the school. they were 10th this year.
The Cross Country program is now funded like other sports at the high school.
Harwood and volunteer assistant coach Val Broyles had figured Polson would win the boys race last Saturday, but not by such a wide margin. The Pirates wound up 49 points better than runner-up Libby. That was the order the two teams finished in the divisional meet here Oct. 19th.
Polson had some nice surprises in Helena, the coaches pointed out. Besides Wies, there were three other all-staters (top 15 placers), as Sam Friesz was sixth, Dain Engebreston was ninth and Ryan Braumberger was 12th.
Engebreston was the only freshman All-Stater in the field. He broke the school's frosh record, first set by Wies and then Broken by Friesz.
The team didn't get the traditional heroes' fire truck welcome Saturday night, but a special ride was planned for Tuesday. The boys did get to stop in Ronan Saturday night for the Lady Pirate – Maiden basketball game and show their trophy around. That was pretty cool, they agreed.
Looking back, "It was the blond hair that did it," Harwood mused. "The Miss Clairol Team," Broyles added.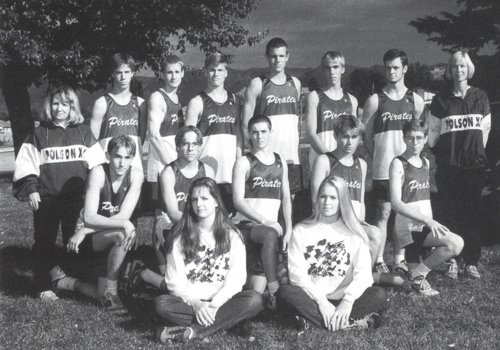 ---