May 2, 2000
Lord of the Rings
By RIAL CUMMINGS of the Missoulian
Polson's Bree Fuqua already holds the state record in the discus – and she's still getting better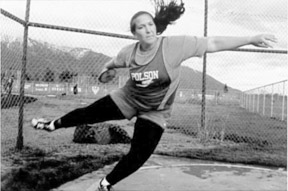 She loved softball, dreamed of being a star pitcher. But her older sister already was Polson's ace. So when Bree Fuqua arrived as a freshman, she looked elsewhere to make her mark.
It had to be destiny.
Bree, who is named after a town in J.R.R. Tolkien's novel "The Lord of the Rings," has ruled the discus ring with absolute authority the past three years, capturing two state championships and setting the all-class record of 154 feet, 10 inches.
Fuqua could break her own record the last weekend of May, when she shoots for a third conseuctive state Class A title in the mile-high altitude of Butte. Fuqua heads into the final month of her senior season ranked second in the nation with a best of 156-9, which she unleashed on April 15 at the Missoula Invitational. (In Montana, state records can only be set at state meets.)
"It bothers me if I don't do my best," said Fuqua, who has accepted a track scholarship to the University of Wisconsin. "I like setting high goals and then reaching them."
The 5-foot-9 Fuqua is easy to spot when competing, even from a distance. She begins each throw with her signature move, cocking the discus high above her head. Then she drops down in a tight coil before spinning her body across the ring and unfurling the 2.2-pound disk, which is somewhat smaller than a Frisbee, high into the air. You can almost hear ground control saying, "We have liftoff."
Fuqua's technical ability draws rave reviews from veteran observers such as Frenchtown throwing coach Steve Chiovaro. He coaches Andrea Batt, another superbly talented thrower. Theirs is Montana's most riveting rivalry since Dennis Black of Great Falls and Mark Gilman of Kalispell hooked up a decade ago.
"Bree has such great snap," Chiovaro said. "I love watching her footwork. She comes across the ring very quickly, and just rips it at the front of the ring."
Although she prefers the discus, Fuqua also excels in the shot put. She set the Class A record of 43-7Þ last year, and ranks among the nation's top 15 this year with a best of 44-71/2.
Fuqua said she came into this season with more confidence after attending an Olympic development camp last summer in California. Her roommate was Jill Camarena of Woodland, Calif., the national prep discus leader this spring, roughly 4 feet ahead of Fuqua.
"I think before that there was sort of a mental barrier," Fuqua said. "I didn't realize I could compete at that level. But when I went down there, I found out they're just like me."
Fuqua's dedication, in the weight room and in the practice ring, is unrivaled.
"She's a special person, a special athlete," said Polson coach Bruce Thomas. "She not only has the ability, but the work ethic to go along with it."
The Fuqua family lives several miles south of Polson, out in the country, and Bree can step out her door any time she wants to practice in her own personal ring.
"It's in the middle of four fields, so I can throw pretty much any direction I want to," said Fuqua, who has a file cabinet full of brochures from colleges who recruited her services. "It's a good situation for me. I usually can accomplish a lot by myself, without any distractions."
Fuqua has competed in pain this spring, the result of a torn wrist ligament suffered while weightlifting during the winter. She decided to delay having it surgically repaired so she could have a full high-school season, and compete in prestigious postseason competitions such as the junior nationals. She's also had knee problems, which prevented her from playing basketball last fall.
"It doesn't affect my throwing," Fuqua insists, adding with a smile: "Just put me in a full body cast. I'll be OK."
Fuqua said she doesn't regret choosing track over softball. She wanted to be an original, and here she is.
"All this stuff I read about myself, it's weird," she said. "It's like it's about someone else, not me. I never expected to be here."
But destiny had a different plan.