Polson's Jen Orchard wins individual State Golf Championship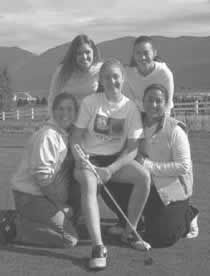 Polson High's Jen Orchard knew what was at stake when she lined up an eight-foot putt on the final hole of the Class A state golf tournament last Saturday at the Sidney Country Club. That's why Orchard's knees were buckling some.
If Orchard made the putt, she'd secure Polson's first girls' individual state championship since 1959. Miss it and Orchard would have to battle Brittany Hedge of Miles City in a playoff hole.
But through a gutsy example of shaking off her nerves, Orchard drained the putt and became a state champ as a junior. Orchard finished with a two-day total of 164 to nip hedge by a mere stroke. Three of the top four scorers – Orchard, Hedge and Maresa Jenson of Whitefish – played in the same group.Orchard and Hedge were well aware of where they stood score-wise for the final hole.
"Jen knew that she had to sink an eight-foot bogey putt to win," Polson coach Bill Owen said. "She said her knees were shaking."
To make matters more difficult, Orchard needed to curl in the putt with a slight break to the cup. She hit the putt just right but got a small scare when the ball lipped a bit at the cup before falling.
"I was really amazed at the composure Jen showed to hit that putt," Owen said. "I was watching from a distance and wasn't aware that she had won. But by studying the faces of the other girls, it looked like the other three were mad which served as an indicator that Jen won."
Orchard didn't hint by body language or smile that she was victorious. In fact, when Orchard entered the clubhouse area, she was sullen because she discovered the Pirates finished second in the team race behind Miles City.
"Here comes Jen after winning state and she has a long face," Owen noted. "I thought it was neat that she was more concerned with the team."
Miles City combined for a 359 the second day to finish with a two-day total of 746 to edge Polson by a dozen strokes for the team title.
However, Orchard salvaged a bit of redemption for the Pirates with her individual performance. She held a one-stroke lead heading into the final hole-a tricky par-3.
Hedge appeared to gain the upper hand with a tee shot that landed just in front of the green. Orchard's tee shot, on the other hand, was further back. Hedge chipped onto the green with her second shot but two-putted for bogey.
Orchard's second shot fell short of the green, but she set herself up for the possible win with a chip shot that landed eight feet short of the cup.
Polson grabbed a 19-stroke lead over Miles City the first day. But Miles City rebounded the final day with some outstanding golf.
"We had a big lead, but we had a bad first round the second day," Owen noted. "It might have been that the added pressure of being the lead affected us. But you have to give credit to Miles City. They played great the second day and they were a dominant team this season."
Orchard won the individual title with identical scores of 82 both days. The Pirates also had a medalist in Kristine Samsel, who finished with a 184 (88-96) for eighth.
Sami Beaver finished third among Polson's five with a two-day total of 202 (98-104), followed by Stephanie Rowold with a 204 (100-104) and Whitney Pitts at 212 (108-104).
"All five will be back," Owen said. "And this is the second straight year we've been the runner-up at state. That leaves the girls very hungry next year to take a run. I think the girls have a great chance."