Polson girls capture State championship
-Harwood collapses after helping lead her team to victory
By Jim Blow
of the Leader
With 200 meters to go in the 1,600-meter relay, Kasey Harwood knew something was wrong. Her legs felt heavy. Very, very heavy. Then they started to wobble with about 100 meters to go in the last race of her high school career. At stake, she thought, was the Polson girls' chance to repeat as the state Class A track team champions. And that thought kept Harwood driving through the pain and confusion of her wobbly legs. She was in second behind Anaconda's anchor, but fading fast. Belgrade's runner passed her with 60 meters to go and she desperately wanted to finish at least in fourth. And with close to a thousand fans and other athletes screaming at the top of their lungs to cheer her on, it looked like Harwood might actually make it. But with 30 meters to go, her legs gave out and she tumbled to the track in a pile of gangly legs and painful expression. The crowd let out a collective gasp and then there was silence. Eerie silence.
"It was like everything went into slow motion and then like someone turned off the volume on a television," coach Bruce Thomas said as he watched the surreal event unfold in front of him from the stands. "We were talking about how (Kasey's mom) Mindy was going to cry if the Belgrade girl passed Kasey … and then I heard Mindy say 'Oh my God, look at her stagger.' Then 'Oh my God, she fell down,'" Thomas recalls. "Then all I remember was Mindy screaming 'Get up Kasey, get up Kasey.'" Kasey did get up.
Nothing really hurt, she said later. Her legs just didn't seem to want to work right. But, she desperately wanted to cross the finish line to earn fourth place. She made about four wobbly strides, then fell again. Then she started to crawl. One bloody knee after another. She got up a third time, but only made it halfway before collapsing to the ground, the baton finally falling from her hand as she fell just inches short of the finish line.
Horrified coaches and teammates rushed to her as she laid on the track, quickly wrapping her in a blanket and helping her to her feet. "Here's this goddess of track turning human in front of everyone's eyes … and her teammates were so shocked. They'd never seen anything like this before. With all her accomplishments, nobody ever expected it to happen … and you're just not ready for it," coach Thomas said.
Kasey's first concern was alleviated by her coach who confirmed that the Polson girls still won the team title and that it didn't matter that she didn't cross the line. Polson repeated as state Class A champs with 58 points, 6.5 points ahead of Columbia Falls. With a tearful mother clutching her as they walked into the infield, Kasey said she kept thinking that she could get up. She just didn't understand why she couldn't. The "why" is that she just ran out of gas. Completely.
Not only did she compete in seven events, plus trials, over two days in a high-altitude environment, her own unique winning ways probably contributed to her condition. Thomas thinks she was dehydrated, and he suspects the meet's organization contributed to it. Harwood spent so much time waiting at the awards stand for medals that she didn't have much time to rest and replenish between events. And event organizers had the awardees waiting 20 minutes once and 15 minutes another time without sweats on and in the cold wind. In the end, he wishes he would have had her drinking more fluids between events. But Harwood also pushed herself to a new limit she'd never seen before. She felt it coming on during Saturday's afternoon finals. "Kasey said that she felt a little different at the end of the 200 finals. And in the 400 she felt tired … she said she didn't have it," Thomas said.
But feeling tired didn't keep Harwood from winning four gold medals at state.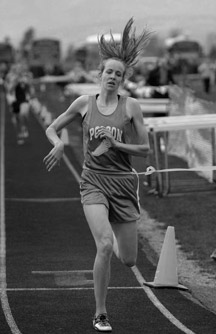 The senior won the 100-meter hurdles in 15.22 seconds and she won the 300 hurdles in a handheld 44.1, which broke her own record in Class A. Harwood also jumped 37 feet, 6 and 3/4 inches to win the triple jump. That mark broke Colinda McFadden's state record of 37-5 from last year, but was ruled wind-aided and, thus, doesn't qualify for a state record. Harwood also won the 400 meters in 58.12. She'd actually run faster than the state mark 56.9, set by Judith Wilde from Hamilton in 1979, at the Polson ABC meet several weeks ago. Harwood also finished fifth in the 200 meters, clocking a 27.26 in the finals. On Friday in the trials, she broke the school record in the 200 with a time of 25.66, set earlier in 1984 by Polly Matejovsky (Dupuis).
Teammate Kara Walker was third in shot put with a throw of 39-1 1/2, a personal record by 14 inches. "She's way out there for a sophomore thrower," a pleased Thomas noted.
And freshman Lyndsy Campbell bounced back after a disappointing 1,600 on Friday to take fourth in the 800 on Saturday with a 2:27.07, despite a nagging groin injury. "Her inexperience showed up in the mile … she ran out too fast and just ran out of gas. She was disappointed that she may have cost us some team points, but, she bounced back very nicely in the 800," Thomas noted.
Senior Cassie Dellwo also took fourth in the discus at 121-9 3/4 and Casi Jenkins finished fifth in the 300 hurdles in 47.6.
The 4×100-meter relay of Tana Bull, Sam Pitts, Casi Jenkins and Harwood finished seventh in 51 seconds flat, a full second faster than last year's team, and of course the 1,600 meter relay team didn't quite get the baton over the line. "They were all upset with Kasey going down … finding out she was only human. Then they had the disappointment of Kasey not being able to stand up on the 1,600 relay podium at the top where the senior stands," Thomas explained. "They were all tears, but it wasn't because of self-pity. Then, of course, they were all relieved to find out it didn't matter in the championship."
Fourth place would have sewn up the championship. The only teams that had a shot of edging Polson were Columbia Falls and Bigfork, but they needed to win the 1,600 relay. The Wildkats finished fifth and the Bigfork runners ran out of gas, too. "I was real proud of our girls. At a state meet there are surprises but they were able to rally and earn the victory," Thomas said. Hard-workers like Jenkins impressed the coach. "When she hits the finish line she doesn't have anything left. She ran a 60.1 in the long relay, her best of the year. She had an outstanding effort and she always does," Thomas said. "And Kari Mowbray ran her best time in the 300 hurdles, her fastest time ever." Thomas said Danielle Rowe got some good experience in high jump and predicts she could be a state title contender in the event, eventually.
"I'm excited about some of our good young kids. Tana (Bull) ran under 60 seconds on her leg of the long relay team. We're gonna have a heck-of-a relay team coming back next year," the coach said.
Sam Pitts and Sam Campbell also competed well for Polson in the middle and long distances, and Lindsy Campbell returns as the fastest 1,600 runner next year.
"We're losing two great leaders in Kasey Harwood and Cassie Dellwo, but we've got a lot coming back for the Lady Pirates next year," Thomas said. "I also thank (coaches) Bob Gunderson, Mindy Harwood, Rob Kelly and Brian Havlovick. They put in a lot of time with those young athletes and it sure paid off at state."
Harwood ends her high school career with 13 individual titles.
"After it was over, she told me she was so glad it was over with," Thomas noted, realizing how much pressure she must have felt going into state this year. "She had a lot more pressure on her than we thought she had. The expectations were pretty high … and she was just totally drained at the end."
Harwood will compete in track at the University of Oregon next year.
"I told her that her next coach won't be so mean and make her do seven events at state," Thomas laughed. But he was also so very proud of her example at state."You ask your athletes to leave it on the track and she sure did. What an inspiration … She'll surely be missed, but what a wonderful role model she's been," Thomas said. "And when someone breaks her record, you know she's gotta be a heck of an athlete."
---
Polson on top
By KIM BRIGGEMAN of the Missoulian – 05/30/2004
BUTTE – Polson girls squeezed past Western A mate Columbia Falls 58-51.5 to win their second title in as many years. It took a long day of work for their heart and soul, senior Kasey Harwood.
After winning four gold medals to run her career total to 15, Harwood gave everyone in Bulldog Memorial Stadium a scare when she started to wobble on the final leg of the 1,600-meter relay and collapsed in the last few yards.Three times she lunged from her knees toward the finish line. The baton flew out of her hand the final time and the Pirates were disqualified. After several minutes of medical attention, during which Harwood was told the race didn't cost the Pirates the title, she was helped to her feet and wobbled over to the victory stand to receive her triple jump medal.
"We just put the saddle on her once too often," Thomas said.
It was Harwood's seventh event of the day and 13th in the two-day meet.
Anaconda's Autumn Domitrovich swept past Harwood on the last leg of the last relay to win. Those first-place points were just enough to help the Copperheads into third place with 49 points, one more than Bigfork. The Valkyries, boosted an hour earlier by senior Kaci Calaway's first state championship in the 3,200, failed to place in the relay. Columbia Falls, meanwhile, finished an unexpected fifth for two vital points.
Harwood took firsts in the 100-meter hurdles, the 300 hurdles, the 400 and triple jump. She was fifth in the 200 late in the day. The electronic timing system didn't catch the start of her 300 hurdles race – the only time all day it didn't work. Already on the Class A record list for the 44.25-second time she posted last year in Missoula, Harwood was gunning to break the all-class record of 43.34. She was hand clocked in just over 44 seconds, a time that was rounded up to 44.1. It'll go into the Class A record book alongside her electronic standard of 44.25 set last year in Missoula. "I didn't hit any of the hurdles right," the disappointed Harwood said after the morning race. "But that's all right. I've got a big day ahead of me." In the afternoon, Harwood bounded 37 feet, 6 3/4 inches in the triple jump. That was slightly past the standing Class A record (and four inches short of the all-class mark). But a stiff north wind was at her back – at 8 miles per hour, according to the wind gauge that's required at state track meets. The maximum wind for a record to be allowed is 4.74, according to a meet official.
Columbia Falls girls figured to be in the mix for a team trophy, but they couldn't have counted on Sunni Downing's contribution. The junior won the javelin on Friday and placed in four events, setting personal records in the javelin, pole vault and triple jump. "Sunni Downing had a super track meet," coach Wes Knutson said. Domitrovich, a junior at Anaconda, won the 100 and 200 before anchoring the winning relay team.
Final Team scores:
Polson 58, Columbia Falls 51.5, Anaconda 49, Bigfork 48, Dillon 43, Lewistown 36, Havre 30, Stevensville 30, Corvallis 28, Sidney 26.5, Whitefish 20, Glendive 18, Miles City 15, Laurel 12, Belgrade 10, Browning 10, Butte Central 10, Libby 10, Colstrip 7, Frenchtown 6, Livingston 5, Ronan/St. Ignatious 4.
Friday's Results
Long jump – 1, Kim McGree, Butte Central, 16-61/2. 2, Carmen Nueuns, Havre, 16-33/4. 3, Brittany Brendsel, Bigfork, 16-13/4. 4, Kyla Wasser, Stevensville, 16-11/4. 5, Ashley Bakich, Colstrip, 15-11. 6, Sunni Downing, Columbia Falls, 15-10 1/2.
Javelin – 1, Sunni Downing, Columbia Falls, 126-10. 2, Erica Nyquist, Anaconda, 117-0. 3, Tisha Smith, Corvallis, 114-9. 4, Ciera Bunch, Frenchtown, 113-8. 5, Lauren Tognetti, Lewistown, 113-2. 6, Yvonne Turpitz, Libby, 111-11.
1,600 – 1, Athlene Allred, Corvallis, 5:20.58. 2, Lauren Dalton, Bigfork, 5:24.46. 3, Kaci Callaway, Bigfork, 5:26.52. 4, Brooke Andrus, Bigfork, 5:29.64. 5, Waseni Shawl, 5:32.12. 6, Diana Stanley, Miles City, 5:36.66.
Shot put – 1, Jennifer Grasby, Miles City, 40-113/4. 2, Bekah Stoltz, Columbia Falls, 39-31/4. 3, Kara Walter, Polson, 39-11/4. 4, Darcy Hahnkamp, Dillon, 37-81/2. 5, Liz Castro, Dillon, 37-01/2. 6, Tamara Gaurdipee, Browning, 35-1.
High jump – 1, Sarah Hislop, Columbia Falls, 5-3. 2, Lauren Tognetti, Lewistown, 5-2. 3, Bridget Farr, Sidney, 5-0. 4, Heidy Bouchard, Sidney, 5-0. 5 (tie), Carmen Neuens, Havre, 5-0. Yvonne Turpitz, Libby, 5-0. Shanelle Swift, Columbia Falls, 5-0.
Saturdays's Results
100 – 1, Autumn Domitrovich, Ana, 12.88; 2, Kristy Hill, Ste, 13.16; 3, Brittany Brendsel, BF, 13.18; 4, Kyla Wasser, Ste, 13.19; 5, Kelsey Smith, Hav, 13.27; 6, Rylee O'Connell, Hav, 13.27.
200 – 1, Autumn Domitrovich, Ana, 26.62; 2, Laura Anderson, Lew, 27.10; 3, Emily Long, WF, 27.21; 4, Kyla Wasser, Ste, 27.21; 5, Kasey Harwood, Pol, 27.26; 6, Brittany Brendsel, BF, 27.40.
400 – 1, Kasey Harwood, Pol, 58.12; 2, Autumn Domitrovich, Ana, 59.92; 3, Jenny Hunt, Dil, 59.95; 4, Laura Anderson, Lew, 1:00.02; 5, Erin Clark, Fre, 1:00.13; 6, Elizabeth Coughlin, Bel, 1:01.26.
800 – 1, Ashley Colbrese, Lau, 2:23.83; 2, Jenny Hunt, Dil, 2:24.33; 3, Candice Rodriguez, Lew, 2:26.66; 4, Lindsey Campbell, Pol, 2:27.07; 5, Callie Gunderson, BF, 2:28.31; 6, Tessa Boehnke, Bel, 2:29.00.
3,200 – 1, Kaci Callaway, BF, 11:54.00; 2, Athlene Allred, Cor, 12:06.96; 3, Waseni Shawl, Bor, 12:14.02; 4, Brooke Andrus, BF, 12:22.56; 5, Diana Stanley, MC, 12:26.24; 6, Lauren Dalton, BF, 12:29.64.
100 hurdles – 1, Kasey Harwood, Pol, 15.22; 2, Bridget Farr, Sid, 15.52; 3, Johanna Closson, WF, 16.07; 4, Sharon Peterson, Cor, 16.19; 5, Emily Hager, Dil, 16.21; 6, Sunni Downing, CF, 16.52.
300 hurdles – 1, Kasey Harwood, Pol, 44.10, Class A record (old record, Kasey Harwood, Pol, 44.25, 2003); 2, Brianne Schipman, Gle, 45.7; 3, Alicia Overcast, Hav, 46.1; 4, Ashley Bakich, Col, 46.9; 5, Casi Jenkins, Pol, 47.6; 6, Cara Laslovich, Ana, 47.6.
400 relay – 1, Stevensville (Ashlee Dellasilva, Kristy Hill, Kelly Wasser, Kyla Wasser), 49.67; 2, Whitefish, 50.10; 3, Havre, 50.51; 4, Livingston, 50.73; 5, Anaconda, 50.76; 6, Dillon, 50.95.
1,600 relay – 1, Anaconda (Dani Dulaney, Christina Laslovich, Cara Laslovich, Autumn Domitrovich), 4:08.16; 2, Belgrade, 4:09.98; 3, Dillon, 4:17.34; 4, Lewistown, 4:18.99; 5, Columbia Falls, 4:21.36; 6, Livingston, 4:23.56.
Discus – 1, Bekah Stoltz, CF, 132-0fi; 2, Liz Castro, Dil, 125-0; 3, Darcy Hahnkamp, Dil, 122-6; 4, Cassie Dellwo, Pol, 121-9; 5, Jennifer Grasby, MC, 109-0; 6, Tamara Gaurdipee, Bro, 106-3.
Triple jump – 1, Kasey Harwood, Pol, 37-6 3/4; 2, Yvonne Turpitz, Lib, 36-3; 3, Sunni Downing, CF, 36-3; 4, Heidi Franklin, Ron/SI, 35-10; 5, Cassie Stoneman, CF, 35-5; 6, Ashley Bakich, Col, 35-2.
Pole vault – 1, Brianne Schipman, Gle, 10-6; 2, Ashley Taylor, Sid, 10-0; 3, Kelsey Smith, Hav, 10-0; 4, Lauren Tognetti, Lew, 10-0; 5, Madison Lanaghan, Lau, 10-0; 6 (tie), Katelyn Koch, Sid, and Sunni Downing, CF, 9-0.