Polson Wins Second Straight State 'A' Softball Title
from the Missoulian
In Polson, it didn't take long for the fire engines to arrive.

Those heroes know the drill. So do the never-say-die Polson Pirates, who captured their second consecutive state Class A softball title by winning four games on their home field Saturday.
Polson roughed up Libby 14-2 in the second and decisive championship game. It was halted after five innings because of the 10-run margin rule. The Pirates forced a second title game by rallying past Libby 3-1 in a tense and thrilling 11-inning affair. Libby was within an eyelash of capturing its fifth state title, but Polson senior catcher Lena Dailey brought home Kelsey Noble with a two-out single in the top of the seventh to send the contest into extra innings.
"I just knew I had to come through, otherwise it was over," said Dailey, as she dished off the championship trophy to one of her teammates and bounded off one of two red fire trucks waiting to take the Pirates on their customary victory parade through town. "I knew our team could pull through and do it. It took a lot of extra innings, but I knew we could do it."
Polson opened the day with a 14-2 win over Whitefish in a loser-out contest. The Pirates followed with a 5-3 win over Hamilton, which went two-and-out on the second day of state for the second straight season.
Libby shocked previously unbeaten Hamilton 2-1 in the morning undefeated game as the Broncs finished third for the second straight year.
The Pirates' title run was reminiscent of their march last season on their home field. Polson was forced to win seven games in a row – including four on Saturday – en route to its first state title. This year, Polson, which lost 4-2 to Hamilton on Friday in a quarterfinal game, won five straight. The streak began Friday evening with a 3-2 win over Butte Central.
"Lighting can strike twice," said 15-year Polson coach Larry Smith. "We (make it hard). It's more exciting that way."
"We work on being composed and not getting rattled," Smith added, as he prepared to dig up home plate. "That's the No. 1 thing. No matter what age you are, you stay composed and you've always got to be thinking about what's going to happen next."
Polson finished 21-7. Libby, which was second to Polson in the Western A during the regular season, closed its season 16-7.
"It's disappointing, but I'm not sure if many people thought we'd be here in the first place," said Libby coach Dean Thompson. "I knew at the beginning of the year we had a state championship-caliber team. …
That first game, if the ball bounces our way, we could have been state champions. It's a game of would've, shoulda, coulda. I'm happy for the girls. They came back and played real well."
Despite rainy and cool weather, the Pirates planned to camp out on their field Saturday night, just as they did a year ago.
"It's never too cold," Dailey said with a smile.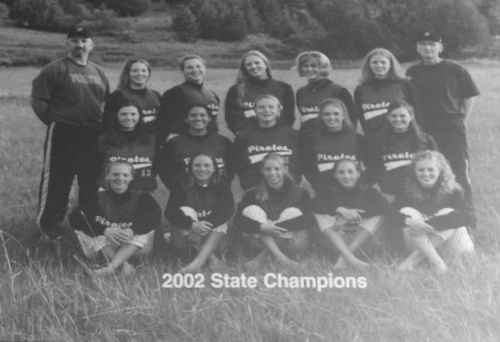 ---
Polson 14, Libby 2
Freshman sparkplug Strohm Fouty went 3-for-3 with three RBIs, while junior pitcher Charmel Burke helped her cause with three RBIs.
The Pirates took a 5-0 lead with a four-run third inning. Burke had a big two-run double in the frame.
The floodgates opened in the fourth inning when Polson sent 14 batters to the plate and scored nine times. Fouty highlighted the frame with a three-run triple.
Libby simply ran out of pitching. Senior ace Anika Huth, who pitched masterfully during the tourney, exhausted her 14 innings of eligibility after the seventh inning of the first championship game.
Junior Jodi Gillan started the second game and was replaced by freshman Nicole Rowan in the third inning. Junior Rachelle Moeller relieved Rowan in the fourth inning, but struggled and was replaced by Gillan. Libby's pitchers walked seven batters in the fourth. Three Polson runs came on walks with the bases loaded.
"I can't say enough about Anika," Thompson said. "She did a wonderful job for us. We have some great young pitchers, but it's tough to put them in the situation we had to."
Burke, who won three games Saturday, pitched the first four innings and kept Libby in check. Libby scored twice in the top of the fourth on a run-scoring single by Carlie Gilden and a two-run double by Erin Cooper.
Sophomore Ashley Wolstad, who pitched just one varsity game this season, came on in the fifth to close out the game for Polson.
"We wanted to get as many runs as we could before we had to make a change," Smith said. "We talked about that in the dugout, that we needed to get some runs because we knew we wouldn't have our No. 1 or No. 2 pitchers."
---
Polson 3, Libby 1
Huth and Polson junior Brigit Johnson battled in a classic pitchers' duel that featured some sensational defense and some dramatic hits.
Huth, who struck out five and scattered nine hits, before giving way to Gillan in the ninth, worked out of several jams. Polson stranded runners on third in the third, fourth, fifth and ninth innings.
Johnson struck out one and allowed five hits, before using up her 14 daily innings after the eighth inning. Burke came in and earned the win.
Libby took a 1-0 lead in the bottom of the sixth when Tayrn Blaz singled home Kelley Bothman. Noble led off the seventh with a single, moved to second on a sacrifice, and advanced to third on a ground ball.
With two outs, the Libby faithful could taste the state championship. The aroma was short-lived as Dailey laced a fastball just out of shortstop Kelley Bothman's reach.
"I had all the confidence in the world (in Dailey)," Smith said. "She's one of our three seniors. They went through this last year and I they knew what it would take to get here. I totally relied on them and I knew they'd lead the rest of them through."
Libby failed to push home the winning run in the bottom of the 10th.
Designated hitter Hurtig reached on an error to open the inning. Rowan was called on to pinch run. She moved to second on a sacrificed and took third on a delayed steal. Burke got Blaz to ground to third to end the threat.
Polson finally broke through in the 11th. Dailey drove in Fouty on a groundout, and Burke followed with an RBI single to score Kdee Meidinger, putting the Pirates ahead 3-1.
---
Polson 5, Hamilton 3
Meidinger smacked a pair of doubles and Johnson drove in a pair of runs as Polson ended Hamilton's season. Polson scored three times in the top of the third inning and took a 4-1 lead into the bottom of the sixth. Hamilton mounted a rally in the bottom of the sixth. Katie Boucher scored on a wild pitch and Sarah Fraser drove in a run to cut the deficit to 4-3. Hamilton loaded the bases, but couldn't push across any more runs. Polson added an insurance run in the top of the seventh as Sarah McClain singled home Meidinger.
---
Polson 14, Whitefish 2
Strohm Fouty led off the game with an inside-the-park home run and the Pirates cruised from there. Fouty went 3-for-5 and Burke went 2-for-4 with three RBIs. The Pirates pounded out 19 hits and scored five runs in the first inning. The game was halted after five innings because of the 10-run margin rule. Melody Cerra had a double for Whitefish, which finished fourth in the tourney. The Bulldogs finished the season 12-12.