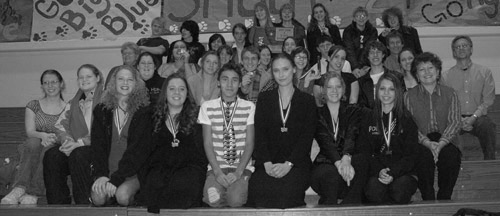 POLSON CAPTURES STATE TITLE IN DRAMA COMPETITION
The Speech, Debate and Drama team members captured the state championship in Drama last Friday and Saturday at the State Class A Meet in Columbia Falls where over 500 students competed from 22 schools.
State Champions in Classical Theater are Malika Erickson and Shawna Baum.
State Champion in Pantomime is Danny Beaver.
Second Place in Classical Theater is Rebecca Grant and Shasta Baum.
Fifth Place in Extemporaneous Speaking is Karissa Koberg.
Eighth Place in Lincoln – Douglas Debate is Thomas Elliott
Eighth Place in Serious Oral Interpretation of Literature is Ashleigh Gallatin
Eighth Place in Humorous Oral Interpretation of Literature is TJ Lipko.
Eighth Place in Serious Duo Acting is Marietta Gopher and Isabelle Kuhblank
Semifinalists who each earned the team 2 sweepstakes points are: Cindy Coe in Expository Speaking, Deanna Boyll and Molly Ricketts in Serious Duo Acting, Caitlin Mahoney and Katie O'Brien in Serious Duo, Bryanna Peterson in Serious Solo Acting, Scott Taylor in Serious Solo, and Sabrina Nystorm in Pantomime.
The Coaches

Ms. Judie Woodhouse
Head Coach

Ms. Janis Jette
Assistant

Mr. John Peterson
Assistant

Mr. Robert Northcutt
Assistant