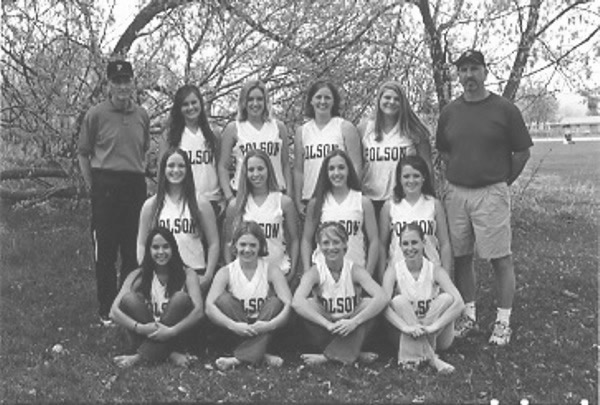 Lady Pirates earns 3rd state title in four years
By Jim Blow
of the Leader
Polson won all five games at state last week in Whitefish, concluding with two Saturday wins over Butte Central, 8-0 in the semifinal and 5-3 in the championship.
It was Polson's third championship in four years, but this year's squad earned it through a unique combination of speed and tenacious defense. And, of course, timely hitting.
"Our defense played perfect in the championship game … and it needed to be perfect," coach Larry Smith said.
But the offense set the tone early in the championship as Polson scored two in the first inning and followed with three more in the second inning. Strohm Fouty started off the first inning with a walk and Jenni Nesladek slapped an infield single and beat the throw to first. Kdee Meidinger followed with a two RBI single to right center and the Pirates were up 2-0. Then in the second inning, Teal Potter got on off an error, then Kelsey Noble moved her to second with a single. Potter was forced out at third., but Fouty's bunt single scored Noble. Then Nesladek's bunt single scored runner Dylan Zetterberg after Medinger moved Zetterberg to third on a sacrifice fly. And Keely Torgison singled to score Nesladek to put Polson up 5-0. Butte Central made a run in the third inning, but Pirate pitcher Ashley Woldstad got back on track and the flawless Polson defense shut down Butte's powerful offense for the rest of the game for the 5-3 win. "It was execution that won the championship for us, especially in the last games," Smith said. "We played our short game extremely well … and with our speed, we beat a lot of throws to home." But it was the defense that secured the win, from the outfield, then infield and the pitcher. Meidinger finally bobbled one ball for the last out of the game, but recovered quickly and threw a frozen rope to first for the final out.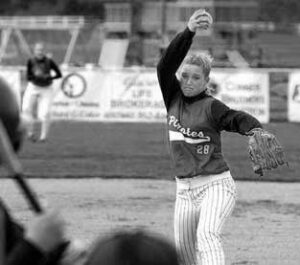 "Kdee's got a gun for an arm and she made up for it with the throw," Smith chuckled. But Smith also credited smart pitching by Woldstad, who hit all the right targets against some of the best hitters in the state. "Ashley pitched very well for us … after she gave up those three runs, she settled right down and got back to hitting the spots to only allow weak hits," Smith said. Woldstad finished the season 20-6 and joined Fouty, Meidinger and Nesladek on the State Class A All-tournament team, the inaugural year for the all-tournament honor.
In the opener on Thursday, Polson's offense exploded to send Hardin into the consolation bracket with a 10-0 win for the Pirates Bonnie Klein went 3-for-3 with a double and three RBIs, while Woldstad and Noble earned two RBIs apiece. Polson earned 10 runs off 12 hits. "Everybody hit the ball and we played very sound defense with no errors. It was a great beginning for us. We totally shed our first-game jitters," Smith said. Woldstad earned 10 strikeouts and pitched a one-hitter for the win."You can't get much better than that. And the defense backed her up, too," the coach noted.
That set up one of the biggest challenges of the tournament for Polson, a second-round test against Frenchtown. "To me (the Frenchtown game) was the key to winning the championship," Smith explained. "We'd beaten them twice in the year, but they were probably my favorite in the tournament. They are very sound defensively and have two top-of-the-line pitchers. So, when we won, I thought, 'Wow, this is it … we're gonna do it." Frenchtown went up 1-0 in the first inning, but Polson put together two crucial offensive spurts – a 2-run third inning and 5-run fifth. Fouty and Nesladek were 3-for-5 and Klein went 2-for-4 from the plate with a double. Nesaldek earned four RBIs in a game where everyone contributed to the win. "Our hitting and real sound defense came through," coach Smith said. "Our hitting was just outstanding against two great pitchers. Our execution was good too, bunting people home. Our quick-feet players Jennelle (Lundeen), Strohm (Fouty) and Jenni (Nesladek), they were getting little infield hits with slapping and bunting. It was impressive getting 13 hits against the quality of pitching they have."Woldstad spread out nine hits and the defense withstood loaded bases in three different innings, giving up just one run each time. "They had the opportunity to blow the game open … and that triple by Anderson in the seventh inning was spooky, but we shut them down," Smith said.
The Pirates played just one game on Friday, topping Billings Central in a tense 2-0 contest. Tami Bonkowski went 3-for-3 and scored both Polson runs. She was the lead-off batter in the second inning and, after moving over with some sacrifices, Noble hit a triple to score her with two outs. Then in the sixth Bonkowski got on as the second batter. Klein drilled a double and Bonkowski scored from first. "Boy, she can wheel … she really gets those legs going," Smith chuckled. Led by Woldstad on the mound, Polson's defense held Central to just three hits. "It was a fun game … a great game to play in and the way fast pitch should be played," Smith said. "Ashley (Woldstad) only had four strikeouts, but she pitched them stuff they didn't like and got around them. She pitched a lot of pop-ups to the infield.".
Polson brought some fireworks to its first game against Butte Central on Saturday. The Lady Pirates racked up nine hits for the 8-0 shutout, led by homers from Meidinger and Lundeen. Polson scored a run in the first and three more in the second to take a 4-0 lead. Lundeen started off the scoring in the second with a solo dinger to boost her confidence. Then Klein nailed a triple to earn an RBI and Noble drove her home off a single. "We just came out blasting and blew them away," Smith explained. Meidinger's grand slam homer in the fifth inning accentuated the win. "Kdee took away any wind they might have had in their sails," Smith said of the shot. "She had a super state tournament, both offensively and defensively… but that's what you expect of a two-time all -state shortstop." He was also proud of Woldstad's performance on the mound. "Ashley shut them out and only gave up three hits … a fantastic job. She was pitching the spots where they couldn't get the bat solidly on the ball," he said.Smith emphasized that the whole team came to play in the tournament. Without particularly dominant hitting or pitching, this team made the most of what it had. "I've always felt in all my years coaching that defense should be there all the time, though hitting comes and goes," Smith said. "(For example) Keely (Torgison) led us in RBIs all year, but she didn't have her best hitting tournament. But, like I told her, she came through on defense and made some great plays for us in left field." This is the same team that got thumped by Ronan late in the season, which tested its mettle. "They found out around mid-season what it really takes to win. And that's a team. We knew we had the talent, it was just they needed to gel and mesh together. We needed to be a family and they figured that out," Smith explained. "And they were not to be denied. The four seniors and the juniors … knew that this could be a very special tournament … and they had a very special performance. They were all struggling early in the year, but they got themselves heading in the right directions … and got their priorities straight."
Summary
Thursday
Polson 10, Hardin 0
Sarah DeVore and Paige Ostahowski. Ashley Woldstad and Jenni Nesladek. W – Woldstad. L – Devore.
HARDIN – Paige Ostahowski 0-3, Erin Flack 1-2, Katie Marston 0-0, Jana Anderson 0-2, Darci Matovich 0-2, Sarah DeVore 0-2, Amanda Seader 0-2, Darcy Torske 0-2, Katelyn Hardy 0-2.
POLSON – Strohm Fouty 1-3, Jenni Nesladek 2-4, Kdee Meidinger 1-3, Keely Torgison 1-3, Tami Bonkowski 1-3, Bonnie Klein 3-3, Ashley Woldstad 0-1, Kelsey Noble 1-1, Jennelle Lundeen 2-3.
2B – Klein. RBI – Meidinger, Torgison, Klein 3, Woldstad 2, Noble 2.
Polson 8, Frenchtown 4
Ashley Woldstad and Jenni Nesladek. Ashley Block, Eileen Babon (5) and Kellie Jones. W – Woldstad. L – Block.
POLSON – Strohm Fouty 3-5, Jenni Nesladek 3-5, Kdee Meidinger 1-5, Keely Torgison 0-3, Tami Bonkowski 1-4, Bonnie Klein 2-4, Teal Potter 0-2, Aubrey Prescott 1-2, Kelsey Noble 1-2, Jennelle Lundeen 1-4.
FRENCHTOWN – Whitney Dilworth 1-5, Ashley Block 1-3, Eileen Babon 0-3, Kellie Jones 0-4, Emilee Sherry 1-4, Dani Anderson 3-4, Lauren Richardson 0-3, Katie Engwall 3-4, Amy DeGroot 0-4.
3B – Anderson. 2B – Klein. RBI – Block, Jones, Sherry; Nesladek 4, Meidinger, Klein, Lundeen, Bonkowski; Prescott.
Friday
Polson 2, Billings Central 0
Ashley Woldstad and Jenni Nesladek. Lesley Dobson and Fray Bustos. W – Woldstad. L – Dobson.
POLSON – Strohm Fouty 1-4, Jenni Nesladek 2-4, Kdee Meidinger 1-3, Keely Torgison 0-3, Tami Bonkowski 3-3, Bonnie Klein 1-3, Aubrey Prescott 0-3, Kelsey Noble 1-3, Jennelle Lundeen 0-3.
BILLINGS CENTRAL – Lora Deyle 0-3, Jill Rigg 0-3, Kayla Webster 1-3, Fray Bustos 1-2, Jamie DeLao 0-3, Lesley Dobson 0-3, Vanessa Larson 1-2, Kirsten Nally-Madrigan 0-2, Shannon Duenow 0-2.
3B – Noble. 2B – Klein; Webster. RBI – Noble, Klein.
Saturday
Semifinal
Polson 8, Butte Central 0
Jodi Hogart and Jordan Kambich. Ashley Woldstad and Jenni Nesladek. W – Woldstad. L – Hogart.
BUTTE CENTRAL – Meghan Walsh 0-4, Kate Shallin 1-3, Jodi Hogart 0-2, Jordan Kambich 0-3, Brenna Manion 0-3, Kelci Thatcher 1-3, Cass Franklin 0-3, Erin Holland 0-2, Ashley Bair 1-3.
POLSON – Strohm Fouty 3-3, Jenni Nesladek 1-2, Kdee Meidinger 1-3, Keely Torgison 0-3, Tami Bonkowski 1-3, Bonnie Klein 1-3, Aubrey Prescott 0-2, Jaelin Vandeberg 0-1, Kelsey Noble 0-3, Jennelle Lundeen 2-2.
HR – Meidinger, Lundeen. RBI – Meidinger 5, Lundeen, Klein, Noble.
Championship
Polson 5, Butte Central 3
Kate Shovlin and Jordan Kambich. Ashley Woldstad and Jenni Nesladek. W – Woldstad. L – Shovlin.
BUTTE CENTRAL – Meghan Walsh 2-4, Kate Shovlin 0-1, Jodi Hogart 2-2, Jordan Kambich 1-3, Erin Butori 0-2, Brenna Manion 0-2, Kelci Thatcher 1-3, Cass Franklin 0-3, Ashley Bair 0-3.
POLSON – Strohm Fouty 0-1, Jenni Nesladek 2-4, Kdee Meidinger 2-3, Keely Torgison 1-4, Tami Bonkowski 1-2, Bonnie Klein 0-2, Teal Potter 1-3, Kelsey Noble 1-3, Dylan Zetterberg 1-3.
2B – Hogart 2. RBI – Kambich 2, Butori; Fouty, Torgison, Nesladek, Meidinger 2.