Thursday/Friday, May 25,26, 2023
State A Tennis tournament at Missoula (The PEAK and Fort Missoula)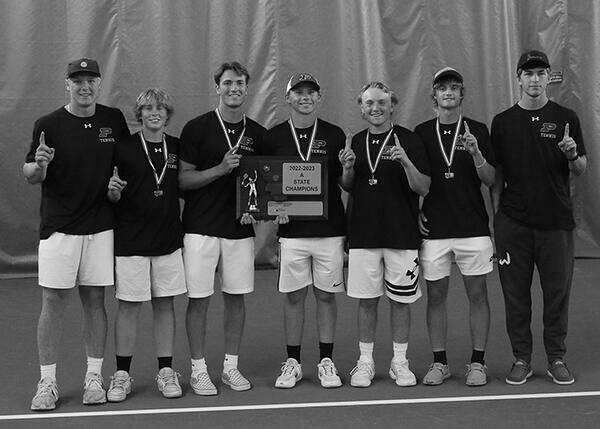 Boys state champions
Polson boys strike gold
The team titles went to the Polson boys and Miles City girls.
"It's our first state girls championship since 1991," Miles City coach Scott Rapson noted. "We had five seniors that all contributed, then we also had a girl from Ukraine who went on to take third (Alina Kot in singles). It was just sort of a perfect storm this year for this to happen."
Polson's boys team title was its first in a decade.
"You can say it about a lot of groups, but this is the nicest group of boys you'll ever meet — well-mannered, fabulous students and they play a little tennis too," Hislop said. "They're just phenomenal kids and multi-sport athletes. They rose up and came for the moment."
"We knew we had to have a bunch of points out of (Ellis). He didn't have the toughest draw but he didn't have an easy draw. We were hoping we'd get 13 or 16 points out of him and we got 13, so that's good."
Thursday, May 25, 2023
MISSOULA – In the boys doubles semifinals Friday, Owen McElwee and Trent Wilson of Polson will face Sean Mehling and Derek Blankenship of Hardin. In the other semifinal, Mason Kelch and Dane Hunt of Whitefish will battle Matthew Newbury and Gabbo Giammattei of Billings Central.
Friday, May 26, 2023
In the boys'singles final, Hamilton's Andy Purcell capped an undefeated season with a hard-fought win over Polson's Torrin Ellis, 6-3, 4-6, 6-2. It was a much different match than the one they had in the regular season that saw Purcell win in straight sets.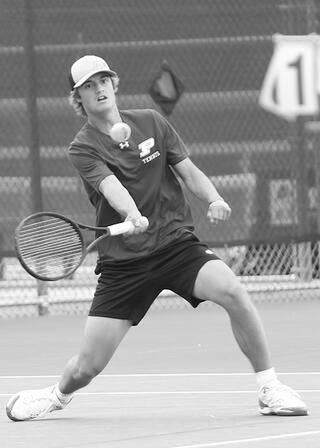 "I just kind of bonked in that second set after going three sets (in the semifinals) with Ryan Beagle of Libby", Purcell said. "My quads were cramping. But after I got some protein in me and a nice cold ice pack I was ready."
Purcell credited Ellis for a gutsy effort. You might say Hamilton's state champion came a long way this spring after playing in doubles at state last season.
"It was a little bit scary getting tendinitis this week because I haven't been able to hit a forehand,", Purcell said. "I just made the most of it, took some Advil and called it good."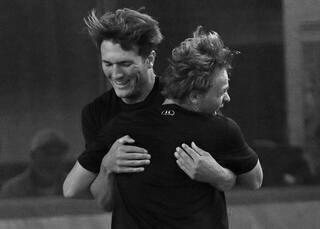 Polson's Owen McElwee and Trent Wilson won the boys' doubles bracket, topping Billings Central's Matthew Newbury and Gabbo Giammattei in the finals, 6-3, 6-3. The Pirate duo reached the finals with a hard-fought win over Hardin's Sean Mehling and Derek Blankenship, 1-6, 6-3, 6-4.
The Pirates also got points when Colter Wilson and Tate Barentsen won the fifth-place doubles match.
State A Tennis
At Missoula
Thursday and Friday
Boys
Team champion: Polson
Team Scores:
Polson 34
Hamilton 20
Hardin 16
Singles
Championship: Andy Purcell, Hamilton, d. Torrin Ellis, Polson, 6-3, 4-6, 6-2.
Third place: Ryan Beagle, Libby, d. Jameson Noteboom, Hardin, 6-1, 6-2.
Fifth place: Colin Hanley, Hamilton, d. Ryan Hutchison, Corvallis, 6-7(6-8), 6-0, 6-1.
Doubles
Championship: Owen McElwee/Trent Wilson, Polson, d. Matthew Newbury/Gabbo Giammattei, Billings
Central, 6-3, 6-3.
Third place: Mason Kelch/Dane Hunt, Whitefish, d. Sean Mehling/Derek Blankenship, Hardin, 6-3, 6-2.
Fifth place: Colter Wilson/Tate Barensten, Polson, d. Christopeher Jessop/Grant Wilcox, Corvallis, 7-6(7-
4), 6-2.